Annie Leibovitz: Life Through a Lens
(2008)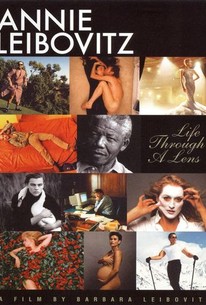 AUDIENCE SCORE
Critic Consensus: No consensus yet.
Annie Leibovitz: Life Through a Lens Photos
Movie Info
Self-reflexivity aside, it would be virtually impossible to pinpoint a more intimate documentary mode than a biographical portrait shot by one's closest sibling, and that axiom undergirds Barbara Leibovitz's penetrating look at her older sister: Annie Leibovitz: Life Through a Lens. Camera-in-hand, the elder Leibovitz not only taught Americans how to look at celebrity - single-handedly sculpting the public perceptions of such notables as Mick Jagger, Whoopi Goldberg, Demi Moore, Patti Smith, Hillary Rodham Clinton and dozens of others - but burned into the mass-consciousness indelible views of the Sarajevo and Rwanda massacres. Annie Leibovitz's photographs are iconic and everpresent, but the woman who shot them commands greater elusiveness. Traversing this longstanding barrier with the subject's permission, Barbara visits Annie at the family's rural homestead, amid the latter's strenuous work on a new photographic collection, and begins to reveal, on-camera, the many layers of her sister's personality and world view. The filmmaker is abetted throughout by celebrities who appear, sharing candid insights into the famous photographer and telling recollections of their on-set interactions with her. ~ Nathan Southern, Rovi
News & Interviews for Annie Leibovitz: Life Through a Lens
Critic Reviews for Annie Leibovitz: Life Through a Lens
All Critics (2) | Fresh (2) | Rotten (0)
Life Through a Lens does an excellent job of showing how this extraordinarily talented woman came to the forefront of modern photography.
a fascinating window onto the last four decades of American history and iconography.
Audience Reviews for Annie Leibovitz: Life Through a Lens
It's not going to rock your world or reveal any secrets about how Annie shoots. It's mostly about the way she thinks about shooting, which is interesting if you're interested in that kind of a thing.
Ken Stachnik
Super Reviewer
½
A good biographical documentary of an iconic visual artist whose work is instantly recognizable. It is difficult to capture the brilliance of her photographs in the medium of film, and the director, who is also her sister, does her best to bring it off. The attempt to tell the story of how Annie's work evolved through interviews with her subjects, her co-workers, her associates and her employers was interesting, but not compelling. The closest we came to seeing behind the persona, was when Annie was talking about Susan Sontag's final days. They had been long-time companions, and her humanity showed through briefly in those moments. For the rest of the film, it felt like we were being shown what the artist herself and the director wanted us to see. But the essential Annie Leibovitz remained hidden behind the mask of her celebrity. There is nearly an hour of extras that appear to be the interviews and scenes that didn't make the final cut. They do help to flesh out and expand on the themes in the main body of the film. I liked it, overall. It presents to the viewer an overview of her life and work. I just didn't find enough to really grab my heart. Not enough there to compel one to look.
Mark Abell
Super Reviewer
½
I don't know much about Annie Leibovitz .. and I'm not sure I know much more after seeing this doc
Annie Leibovitz: Life Through a Lens Quotes
There are no approved quotes yet for this movie.