Animal Factory
(2000)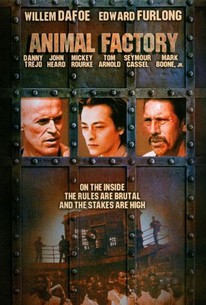 Movie Info
Ron Decker is a 21-year-old who has just been smacked with a lengthy prison sentence for drug trafficking. Not confident that he can get through prison on his own, he turns to hardened criminal and ex-gang leader Earl Copen for guidance and protection. When Earl sees a bit of himself in Ron that's worth saving, an odd relationship between the two men is forged -- one that has serious consequences for them both.
Critic Reviews for Animal Factory
Audience Reviews for Animal Factory
[img]http://images.rottentomatoes.com/images/user/icons/icon14.gif[/img] Steve Buscemi proves here the extent of his talent, both as a screen presence and as a fine director. Willem Dafoe and Edward Furlong share great chemistry and Danny Trejo brings in a few laughs to the more realistic and gritty prison drama than that of The Shawshank Redemption. It isn't deserving of it's forgotten film status, it has brilliant performances and it is consitently interesting. Dafoe should have been nominated for an Oscar for his performance which was even more powerful than Robbins or Freeman in Shawshank. A powerful and realistic film about having to adapt to your surroundings.
Directors Cat
Super Reviewer
Somewhat edgy, somewhat anticlimactic. Buscemi's directing is superb but his casting is hit & miss.
Randy Tippy
Super Reviewer
Earl Copen: Better to reign in hell than to serve in heaven.  "On the Inside the Rules Are Brutal and the Stakes Are High" Steve Buscemi can definitely direct. Animal Factory was his follow up to the very good character driven alcoholic drama, Trees Lounge. Like his debut, this film has a very gritty, independent feel to it. Animal Factory is also very character driven as well, and the performances are good across the board, especially Willem Dafoe; but would you expect any different. Edward Furlong is well cast as the new fish in the prison. His character stands out as a small, young, and inexperienced inmate, that is thrown into a prison with ruthless criminals. He is taken under the wing of a institutionalized convict named Earl. Earl shows him the ropes and helps him out of some situations that he wouldn't have been able to get himself out of. The great thing about Animal Factory is how it makes you like the criminals without inserting any doubt of their innocence or guilt. We like Earl because of how he helps Ron, despite the fact that he is a ruthless and drug addicted criminal.  Animal Factory doesn't go out of its way to insert any added drama. It feels very held back, when lesser films may have chosen to insert dumb little subplots to make the viewer feel more at home. This is one of those movies you appreciate even more when you look at some of the other efforts from the genre. Where those movies go wrong, this one doesn't. It doesn't simplify or intensify any part of the plot in order to get reactions from the audience. This may put off some viewers, but I really respect movies that are try and succeed at doing just that. This is just a realistic portrayal of prison life, shot in a real prison, with real inmates. It can't get much more realistic than that. It isn't a Shawshank Redemption caliber film, but it is a damn good one. Entertaining and powerful, without being melodramatic or overblown.
Melvin White
Super Reviewer
Animal Factory Quotes
There are no approved quotes yet for this movie.