Andy Warhol's Trash
(1970)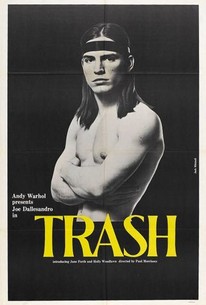 Andy Warhol's Trash Photos
Movie Info
This experimental venture from Andy Warhol follows the day in the life of an impoverished couple living in a squalid basement in New York's Lower East Side as they scramble for food and drugs. The subject matter, actual drug use, garbage eating, and explicit sex, may make many viewers uncomfortable.
Critic Reviews for Andy Warhol's Trash
Audience Reviews for Andy Warhol's Trash
"Trash" opens with a closeup of Joe Dallesandro's pockmarked buttocks as he receives futile oral sex to revive his drugs-softened penis. This shot neatly sums up the love-it-or-leave-it appeal of this Paul Morrissey-directed feature. Dallesandro is a New York junkie who uses his good looks to scrounge money from the lusty women he meets. Transgendered Warhol superstar Holly Woodlawn plays his volatile roommate, and the two hope to pull a welfare scam using the coming baby of Holly's sleazy sister. The faint strands of a plot end there. The remainder of the action amounts to sleepy conversations, persistent shots of Dallesandro's dangling member and exasperatingly graphic heroin use (the participants favor a brand of bulb-ended syringe that seemingly requires minutes of tedious labor for a single blast). The scenes are long and without transitions, and probably could be shown in any order. Woodlawn acts rings around everyone else in her first role, and her closing minutes are easily the high point. Morrissey reportedly intended "Trash" to discourage rather than promote drug use, and I'd say he achieved his goal. Strange trivia: Around the 64-minute mark, a girl is talking about a junkie she knew in high school who was later run over by a tank. His name: Danny DeVito? The Web suggests DeVito began appearing in off-Broadway plays around 1969, but I'm not aware of any connection between him and the Warhol/Morrissey camp. What's the story here?
Eric Broome
Super Reviewer
Although this one has more of a story than Flesh, Dallesandro plays the same Joe he plays all the time, and sits around naked for most of the movie as usual too. Not bad, but not good either.
All the women (and the transvestites) want hunky Joe Dellassandro, but he's impotent from shooting too much junk. Nearly plotless, sometimes improvised, it's almost a documentary portrait of NYC losers at the end of the 1960s; no longer shocking and not a great movie by any stretch, but it does have significant curiosity value.
Andy Warhol's Trash Quotes
There are no approved quotes yet for this movie.