Andromedia
(1998)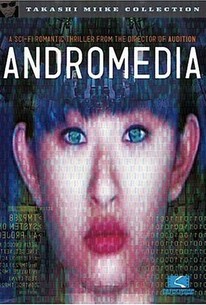 AUDIENCE SCORE
Critic Consensus: No consensus yet.
Movie Info
Japan's renegade horror filmmaker Takashi Miike reveals a more subtle (but no less adventurous) side to his cinematic personality in this offbeat example of thinking person's science fiction. Mai (Hiroko Shimabukuro) is a youngster whose father (Tsunehiko Watase) is a scientist who is working on a system to record a person's memory and personality as computer data. As Mai edges into young adulthood, her interest in boys begins to compromise her long-standing friendships, and she is beginning to suffer pangs of guilt for it when she is killed in an auto accident during a date. Mai's father, using his experimental technology, had already recorded his daughter's thoughts and memories into his computer, and is able to create a virtual version of her, Ai, who is able to lead a life of her own. But a less-than-scrupulous technology firm has nefarious plans for this invention, and soon Ai, her father/creator, and her friends are on the run from a team of shadowy assassins. Leading lady Hiroko Shimabukuro is best known in Japan as a member of the best-selling teen pop group Speed; the other members of the group also appear in the supporting cast.
Cast
Critic Reviews for Andromedia
There are no critic reviews yet for Andromedia. Keep checking Rotten Tomatoes for updates!
Audience Reviews for Andromedia
½
Definitely a "project for hire" film for Takashi Miike.This is one of those unseen movies that is understandably under the radar, and only discovered on Netflix or Amazon by Miike fans who might want to look for something even more "different" than his high-voltage yakuza pictures and surreal nightmarish stylings. In a sense Andromedia is still a surreal nightmare, only this time filled with so much corny vibes that you'd have to be the biggest air-head 13 year old girl not to see the humor in it. I'm sure Miike had to see it too, otherwise he probably wouldn't of touched it with a 20 foot pole. It's the kind of work that's too weird to be popular, ever, in America, and from what I've read, I wonder f there's even much awareness for it in Japan. It tells a love story with images like a cherry blossom tree (on a beach) meant to accentuate the power of the main teen couple (Mai and Yu, played by Hiroko Shimabukuro and Kenji Harada respectfully). Mai, by the way, is not really Mai, but Ai, her previous self's memory converted onto a micro chip after her sudden death (which was pretty awesomely handled). It's not just Yu who wants her, but there's also some nefarious villains who want the technology for no real reason other than just having it. One of these guys is very strangely played by Christopher Doyle, a DP for Van Sant and Wong Kar Wai, who happens to have a haircut like a muskrat. He has his goons chase after Yu and his friends, leading up to a climax that doesn't really make much sense except to serve as a venue to display really over-the-top CGI effects. Actually, much of the film doesn't make too much sense, but if you don't get that by the thirty minute marker, you probably never will. I didn't know going into it that it was also, in part, meant to be a promotional piece for two J-pop groups (though the very oddly placed and uproariously funny music video in the middle of the film marks as something of a crazy marvel in Miike's canon). Of course, it's not a must-see, even for most Miike fans, and I'm sure some who come across it will just keep scratching their heads once it's over. Though after seeing several other films from the massively prolific director, I'm kind of glad to see that there is such a fluffy side to his savage satire, and how in between the sickeningly cutesy love moments (like when Mai and Yu have a real 'connection', where a carnival lights up and the nearly wretched music cues up) there's still some bits that remind one of the heedlessly inventive and demented master of Japanese cinema. The only thing funnier, sometimes unintentionally sometimes not, than seeing Yu and his boy-band friends jumping off cliffs to relative safety, or the brain-tumored gangster Takanaka getting enveloped in the horrendous tubes of the internet center, or the late 90s mix of Backstreet Boys-esque music and CGI, is that this was originally based on a book... a real, published book. It's flufff, slight, and it almost blends to a form of campy, sci-fi pop-art -- which is certainly strange, but yet somehow it fits into Miike's oeurve.
Jonathan Hutchings
Super Reviewer
Andromedia Quotes
There are no approved quotes yet for this movie.