Andre the Giant
(2018)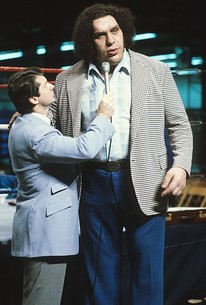 Movie Info
A profile of pro wrestling legend Andre the Giant, born André René Roussimoff in 1946, features a look at his childhood in France, his celebrated WWE career and forays into the entertainment world, and interviews with Vince McMahon, Hulk Hogan, Billy Crystal and Rob Reiner.
Critic Reviews for Andre the Giant
Audience Reviews for Andre the Giant
½
Chronicles the events of Andre's life without necessarily diving too deep into the the why of these events; the drive was there, but what created that drive? What made wrestling so attractive? Why did he become so infatuated with it? It seems there had to be more to it than not wanting to live on a farm his whole life and doing something different. No, wrestling became that something different that he loved and that made his uniqueness worthwhile. Was this all that was needed for Andre to dedicate his life to it? How did he maintain this level of commitment and why? Like many a music docs the events audiences are familiar with are easy to recount, but to get to the core of what motivated and inspired those artists to create the kind of music and persona they did is what really drives these bio docs past surface-level. "Andre the Giant" does this in bursts, has some really insightful interviews from those closest to the Giant, and some archival footage that is absolutely glorious as well as critical to viewers understanding the arc and transformation of this man. Still, it is only in these bursts that Jason Hehir's film seems to be able to genuinely pull the curtain back. As much a mini-doc about the evolution of wrestling in popular culture as it is a documentary about Andre the Giant (which isn't bad, but instead undoubtedly appropriate) this is simply a subject that requires more room to breathe and at a tight 85-minutes the room just isn't there.
Philip Price
Super Reviewer
Andre the Giant Quotes
There are no approved quotes yet for this movie.