And Now the Screaming Starts
(1973)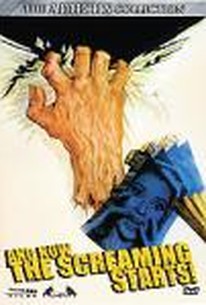 And Now the Screaming Starts Photos
Movie Info
This creepy, atmospheric horror film from England's Amicus Productions dispenses with much of the tongue-in-cheek presentation of their popular '70s horror anthologies (such as Asylum and Dr. Terror's House of Horrors) in favor of a more adult-oriented approach. The story begins in the 18th century, as a young stable hand tries to prevent nobleman Fengriffen (Herbert Lom) from raping a young servant girl -- who happens to be the stable hand's wife -- and for this transgression has his hand lopped off. Flash forward to the present, where Fengriffen's ancestor (Ian Ogilvy) and his wife (Stephanie Beacham), now living on the ancestral estate, are haunted by the servant's vengeful spirit, as well as the severed hand itself, which roams the gloomy corridors of the mansion. Most video versions are taken from the TV print, which is missing some scenes of violence and nudity. ~ Cavett Binion, Rovi
Critic Reviews for And Now the Screaming Starts
Audience Reviews for And Now the Screaming Starts
½
Rather than the portmanteau films that Amicus were known for in the early 70's here they try to ape Hammer and create their own gothic horror. Unfortunately there is little that is actually horrific here aside from a few shock moments and the whole thing feels a bit laboured. The cast are pretty strong and do their best with the material but you kind of wish the whole thing had been compresses into a short story and thrown into another portmanteau film. I think I'll stick with 'Asylum' and 'Vault of Horror' in the future.
David Sayers
Super Reviewer
½
Odd film, this. Not being the biggest fan of Hammer, I always felt Amicus a more competent stable (neither really produced a film that was actually frightening, but they could be entertaining, and Amicus were glossy and lurid.) This one is a little-known piece that always gets bad reviews but I happen to like it. Firstly, it has a splendid cast. Secondly, the camerawork is something to behold, the sickly lurid colours blending in with the gorgeous period costumes and attractive, dramatic locations. There is also a little more going on here than meets the eye. Perhaps a subtle nod to the Glamis Castle story...? There's a little bit of class war going on, and despite its vivid rape scene I can't help feeling this isn't quite the exploitation movie it appears. For an early 70s movie it does at least treat the issue seriously; the effect it has on the victim and the fact that no measures can atone for it are believable. A word to the excellent music, beautiful but interspersed with a spooky zither. And Geoffrey Whitehead is very good. The graveyard climax is pretty powerful too, and the closing shot as a camera wanders an empty room to the Bible is a cut above what one expects from this genre. The bad points are the tacky severed hand, the occasional Grand Guignol hamminess and the fact that the film does rather overplay it's hand...it spends so long building up to its revelation that by then it will always be a let down. And one other criticism...Catherine recovers from her wedding night ordeal ridiculously quickly, which totally contradicts the film's central premise. Still, the open window symbolism and the Malleus Mallificarum references are neat, as is the wonderful scene of Charles standing by the window as the snow falls and reading the lines from Milton's Comus. This film honestly isn't as bad as you may think and you could certainly do alot worse on a dark winter evening!
Cassandra Maples
Super Reviewer
And Now the Screaming Starts Quotes
There are no approved quotes yet for this movie.