...And Justice for All
(1979)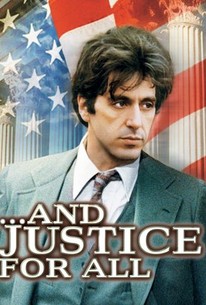 TOMATOMETER
AUDIENCE SCORE
Critic Consensus: A volcanic Al Pacino holds court in this histrionic legal drama, the star grounding a tonally imbalanced script with the conviction of his impassioned performance.
...And Justice for All Photos
Movie Info
Norman Jewison's blackly satirical look at the American justice system has gained in stature as one of the more incisive social commentaries of its time. Al Pacino plays Arthur Kirkland, an incorruptible attorney who attempts to initiate reforms in the Maryland justice system. Kirkland is haunted by the fates of two past clients, one of whom committed suicide in jail; the other is still alive but is locked up on a trumped-up traffic violation. The ability of power and money to distort the pursuit of justice becomes all too clear as Kirkland finds out how deeply the rot has spread. He is ultimately blackmailed into defending a repulsive judge (John Forsythe) accused of rape, and faces a crisis of conscience. Pacino's and Forsythe's performances are intense and powerful. Many critics found the film biting and almost painful in its razor-sharp indictment of the justice system, while others declared the script too outrageous.
News & Interviews for ...And Justice for All
Critic Reviews for ...And Justice for All
Audience Reviews for ...And Justice for All
Not for all, at leas not for THE ONE who matters the most!! Clumsy way of making an attempt to expose the legal system for what it is, and displaying its effects on those concerned. But it was much realistic and wish I could have appreciated it for that.
familiar stranger
Super Reviewer
An over-rated legal drama centering on one lawyer's (Al Pacino) desire to take-down the legal system that is so corrupt. While this movie features a heck of a turn from Pacino (but this is always expected), as well as a phenomenal performance by the vastly under-rated Jeffrey Tambor, this film is convoluted to the max. There is just frankly way to much stuff going on packed in to a two-hour slot, topped off with an overdone Pacino speech near its conclusion that feels forced and something totally expected in a Hollywood crowd-pleasing script. A pretty bad film, and one that should have dropped one of its many side-plots and focused on only two or three of them, that way the dramatic punch it tries to swing at its conclusion would have had more weight to it.
Dan Schultz
Super Reviewer
Al Pacino (along with Robert DeNiro) was probably the greatest actor of the 1970's. Long before he became the yelling guy that found his start in Scarface and was awarded for his noise in Scent of a Woman, Pacino was an actor's actor. He ended his reign in the 1970's with ... And Justice For All, a courtroom drama that wasn't a very stellar story but overcame its problems with great acting and direction. Arthur Kirkland (Pacino) is an idealistic defense attorney that tends to grate against the established legal hierarchy in Baltimore. He soon finds himself juggling two cases where the defendants don't really belong in jail, a suicidal judge (jack Warden), a girlfriend (Christine Lahti) who is investigating ethics issues in the courts, and the judge (John Forsythe) he hates who asks him to defend him in a rape trial. That's a ton of stuff to juggle and as the movie progresses Arthur becomes more and more disgusted by the way the law has turned into a car lot mentality. "Let's make a deal! Let's make a deal!" The story is just so-so. There are points that feel like pure manipulation and predictability is the standard. The thing about this film is that when you dissect it into its acting and directing you get more than what the total film really is. The acting from all levels is superb with that young Pacino leading the way. he was still a king in 1979. Jewison directs the film in a way that leaves room for comedy and a little bit of tension. He makes a bland story interesting. ... And Justice For All has been shafted for years as some of Pacino's lesser work, but when you look at it from a technical standpoint and forget about the many flaws of the script you see what a precision picture this film really is. A '70's classic that closed the decade with class.
Chris Garman
Super Reviewer
...And Justice for All Quotes
There are no approved quotes yet for this movie.