Anatomy of a Murder
(1959)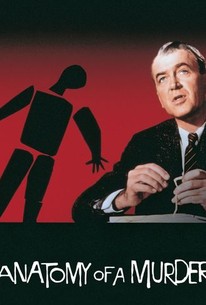 TOMATOMETER
AUDIENCE SCORE
Critic Consensus: One of cinema's greatest courtroom dramas, Anatomy of a Murder is tense, thought-provoking, and brilliantly acted, with great performances from James Stewart and George C. Scott.
Anatomy of a Murder Videos
Anatomy of a Murder Photos
Movie Info
Based on the best-selling novel by Robert Traver (the pseudonym for Michigan Supreme Court justice John D. Voelker), Anatomy of a Murder stars James Stewart as seat-of-the-pants Michigan lawyer Paul Biegler. Through the intervention of his alcoholic mentor, Parnell McCarthy (Arthur O'Connell), Biegler accepts the case of one Lt. Manion (Ben Gazzara), an unlovable lout who has murdered a local bar owner. Manion admits that he committed the crime, citing as his motive the victim's rape of the alluring Mrs. Manion (Lee Remick). Faced with the formidable opposition of big-city prosecutor Claude Dancer (George C. Scott), Biegler hopes to win freedom for his client by using as his defense the argument of "irresistible impulse." Also featured in the cast is Eve Arden as Biegler's sardonic secretary, Katherine Grant as the woman who inherits the dead man's business, and Joseph N. Welch -- who in real life was the defense attorney in the Army-McCarthy hearings -- as the ever-patient judge. The progressive-jazz musical score is provided by Duke Ellington, who also appears in a brief scene. Producer/director Otto Preminger once more pushed the envelope in Anatomy of a Murder by utilizing technical terminology referring to sexual penetration, which up until 1959 was a cinematic no-no. Contrary to popular belief, Preminger was not merely being faithful to the novel; most of the banter about "panties" and "semen," not to mention the 11-hour courtroom revelation, was invented for the film. Anatomy of a Murder was filmed on location in Michigan's Upper Peninsula.
News & Interviews for Anatomy of a Murder
Critic Reviews for Anatomy of a Murder
Audience Reviews for Anatomy of a Murder
½
With a fantastic cinematography and superb direction, this superlative courtroom procedural unfolds in an unhurried fashion, daring to make outspoken use of sexual terminology (something unthinkable at the time it was made) and presenting a brilliantly complex script centered on a fiery, breathtaking rhetorical combat of the highest quality.
Carlos Magalhães
Super Reviewer
Though this adaptation of a best-selling novel may not seem like it now, it was quite a groundbreaking big deal when it came out. The story, a stirring courtroom drama, follows an alcoholic, fly-by-the-seat-of-his-pants small town lawyer (Jimmy Stewart going against type), defending a man who openly admits to murdering someone, but only because said individual raped his wife, who, admittedly, is kinda a floozy. Stewart's character understandably has a lot going against him, and that's not including the fact that the prosecution is made up of some slick, hard-cased big city guys led by George C. Scott. Like I said, this was a big deal at the time, mostly due to the subject matter, and how director Otto Preminger dealt with it. He did a great job of dealing with stuff that, until then, hadn't really been covered in cinema. Yeah, like I said, some of the impact has diminished, but that doesn't take away from the fact that it's still a powerful and engaging piece of work. The opening titles by Saul Bass are the stuff of legend, the score by Duke Ellington is a jazz classic, and the performances, as one may expect, are quite good. I mean, there's Stewart, Scott, and Lee Remick as the floozy wife, all of whom are quite great. Oh yeah, and Ben Gazzara as the man on trial. This one kinda set the standard for a lot of courtroom dramas to come, and it is quite realistic, accurate, and does a fine job of trying to show things in a pretty down to Earth way. So yeah, I dig the film a lot, but I'll admit that the running time could be cut down a bit, and some of the pacing trimmed as well. It's quite engaging, but once in a while it gets slightly boring, but not enough to really derail things. While I don't feel like a lot of people do, I still think this is a fine film worth seeing, even if I don't regard it as a masterpiece like a lot of others do.
Chris Weber
Super Reviewer
Amazing dialog and performances. There's a reason you've seen this ripped off 100000000 times. The legal procedural drama starts here. Plus, a Duke Ellington score!
Ken Stachnik
Super Reviewer
Anatomy of a Murder Quotes
There are no approved quotes yet for this movie.