Analyze This
(1999)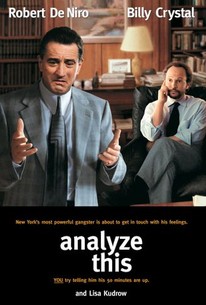 Movie Info
Paul Vitti is one of New York's most powerful gangsters. He's grown up in the Mob life and has been well prepared for his future responsibilities by Manetta, his mentor and surrogate father (since his own father was gunned down years before). But when it becomes time for Paul Vitti to assume his role as the leader of his crime family, he suddenly starts having trouble breathing. He can't sleep; he's distant and preoccupied around his wife and kids; his mistress wants to know why his interest in romance has flagged; and his loyal henchmen wonder at his suddenly anxious demeanor. If the other crime families find out that Paul Vitti is having panic attacks, then how can he run his business? He's supposed to inspire panic, not experience it. Ben Sobol is a divorced suburban New York psychiatrist with a young son and a fiancee he's about to marry. He's a nice guy and a loving dad who's plagued by his relationship with his own father, a highly successful, media-seeking, pretentious Upper East Side therapist. Ben doesn't want to be anything like either of his self-absorbed parents - even if shunning the spotlight means enduring a patient list full of dull, boringly neurotic complainers without a serious challenge among them.
News & Interviews for Analyze This
Critic Reviews for Analyze This
Audience Reviews for Analyze This
In January of 1999, The Sopranos made its TV debut, and it was a revelation to see a show that not only featured a mafia figure undergoing psychiatric therapy, but took it seriously. Then, just two months later, Harold Ramis directed this comedy that took that same concept, but turned it into a smart, and sharp witty comedy. On the verge of a major mafia summit, kingpin Paul Vitti finds himself suffering panic attacks and going through a serious meltdown...all on the verge of a major meeting of the country's crime bosses. Desperate for help, he gets his main man Jelly to help him out. Coincidentally, Jelly had a run in with Dr. Ben Sobel, a psychiatrist whose practice isn't really going anywhere, who also happens to have his mind on his impending marriage. Well, whether Sobel likes it or not, Vitti seeks him out, and, impressed, basically forces Sobel to take him on as his primary client. Surprisingly, some progress is made, but of course, things don't go all that smoothly, and the results are hilarious. Okay, so the film isn't a masterpiece of comedy, but the writing is sharp enough, the concept is fun, if not all that original, and yeah, it is pretty funny. I think what makes the film work the most are the performances. De Niro has type casted himself in comedic roles for continually recycling the schtick of poking fun at his tough guy persona (like he does here), but what really sells it is that he plays the role straight, and his reactions to all the absurd farce are where the laughs come from, instead of being painfully forced. Crystal is wonderful, as has great chemistry with all the tough guy actors, and it's fun to see him gets stuck in all these nutty situations. Some of the jokes are well played, despite being obvious, but hey, the film does deal with the material a lot more intelligently than the majority of the National Lampoon's output or those countless spoof movies like Epic Movie. All in all, this makes for a pretty enjoyable movie. It's funny, has a great concept, decent execution, and features fun performances from a solid cast. Give this one a go.
Chris Weber
Super Reviewer
½
Crystal and De Niro make a very funny duo and become an unique satira of Mafia films.
Lucas Martins
Super Reviewer
Analyze This is a great comedy from director Harold Ramis. Brilliantly acted with a good plot, Analyze This is a unique comedy that is very funny and Robert De Niro lampoons perfectly his previous gangster roles in this film. The films cast keeps involved and every actor gives a great performance. The jokes were great, and it's just funny to see De Niro in his role. I like these types of comedies that have a smart overtone mixed with the humor. Harold Ramis succeeds at doing that very well. This is one of his most original films, and for viewers looking for a different type of comedy, this film is for you. This is just a great film to watch if you want good comedic delivery. Unfortunately they made an awful sequel that was completely unnecessary, but if you only stick with this film, you shouldn't be disappointed. This a great film worth watching, even if the sequel is bad. Avoid the sequel, but watch this one. Harold Ramis delivers a great film that is smart, witty, well crafted and memorable. If you love a comedic take on a mafia boss, this is that film to watch and is far better than Mafia! This was a different type of film for De Niro and he pulled off beautifully. Ramis directs a great film that is almost perfect and he makes a must see comedy with a great cast of varied talent that pull off something special on-screen. Analyze This is definitely a must see comedy that Ramis fans will surely enjoy. Robert De Niro's performance alone makes this a film worth seeing.
Analyze This Quotes
There are no approved quotes yet for this movie.