Anaconda III
(2008)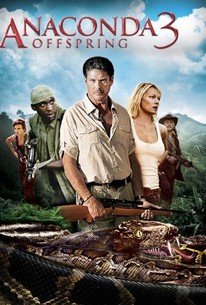 AUDIENCE SCORE
Critic Consensus: No consensus yet.
Movie Info
A hunt for two massive snakes is launched following their escape from a research facility where their longevity was studied. David Hasselhoff, John Rhys-Davies, Crystal Allen. Directed by Don E. FauntLeRoy.
Critic Reviews for Anaconda III
All Critics (2) | Fresh (0) | Rotten (2)
The filmmakers themselves obviously find the material too ludicrous to bother with anything other than smug contempt.
...immediately establishes itself as the weakest entry within this ongoing series...
Audience Reviews for Anaconda III
Now this is more like it, here we have a real straight to DVD TV movie pile of crapola. Everything about this film is very poor from the laughable CGI snakes to the laughable corny team of hunters that try to catch the anacondas. Gotta love that film title too huh...so very very cheesy and corny. Not even the Hoff can save this film from the bottomless pit of poo that is the D-movie. The cast is of course weak and all look n act like hammy extras from the reject list. The outrageously bad team of hunters are hilarious as they are made to look like a cool band of badass hardasses that you have probably seen many times before. Their over acting and stinging verbal quips are sheer golden moments of complete tosh lol! I simply can't recommend anything about this film as its simply terrible. Dreadful CGI snakes that look like a high school student has created them over the weekend, and probably the worst looking greenscreen work I've seen in a proper production since I was a child. The sequences in the jeeps are almost Ed Wood-like in standards and quite literately unintentionally sidesplitting.
Phil Hubbs
Super Reviewer
First made for TV sequel in this series and you can see were everything goes wrong. The acting is worst, the production looks bad and the plot is non-existent. There is absolutely nothing going for this film. The film is a joke, Look at the cast for one and you'll understand why. This is a poor attempt at trying to keep a tired out franchise that never was good, going. The films plot is awful, and it's just another film that was made for TV that has a lack of effort from those involved in the making of the film. The filmmakers clearly didn't care about the ends result, thus you have yet another awful film with little substance. Director Don E. FauntLeRoy doesn't know how to craft an effective horror film that is fun and constantly exciting. This film lacks anything interesting and is not one that is worth your time. I never understood why they would make sequels to Anaconda; the first film wasn't good, and quite forgettable. However with the sequels, they just deliver mediocrity on a whole new level. Don't look for anything memorable with this film, you won't find it. This is a poorly constructed film where everything that can go wrong goes wrong. As far as killer animal films are concerned, Anaconda III is one of the worst films that I have seen. This is a scare free horror film that is cheaply made for a late night TV audience. Find something better to watch, because you won't be entertained with this one. This is yet another bad film in the Anaconda franchise. This is poorly made, and overall dull with no redeeming qualities.
I thought this could have been ok, expecting nothing from it. It was just plain bad and not even so bad it's kinda funny and still entertaining way. Really bad CGI for the snake which didn't help, but not much of a story or plot either. Even the Hoff's presence couldn't make this mildly fun......apparently there is a 4th with the same female lead? Dare I watch that? The first was great but this series is now getting too bad to follow.
Anaconda III Quotes
There are no approved quotes yet for this movie.