An Invisible Sign
(2011)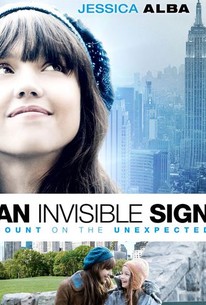 Movie Info
Young Mona idolizes her father, a brilliant mathematician. When he suddenly demonstrates signs of mental illness, Mona begins to obsess about numbers, using them to interpret an unpredictable and threatening world. Now an adult (Jessica Alba), Mona's old superstitions and compulsive behaviors continue to flourish, but a new job as an elementary school math teacher (a position she both relishes and dreads), may force her out of her protective shell. With imagination and humor, as well as a special sensitivity to the realities of mental illness, AN INVISIBLE SIGN carries a magic all its own. -- (C) IFC Films
News & Interviews for An Invisible Sign
Critic Reviews for An Invisible Sign
Audience Reviews for An Invisible Sign
Jessica Alba stars in the bland, lighthearted indie comedy An Invisible Sign. The story follows a socially dysfunctional young woman who takes a job as an elementary school teacher, but has trouble connecting with her students. The film lives and dies on Alba's performance, and unfortunately she's not very good. It's hard to get a handle on her character, and whether she has a mental disorder or is just incredibly socially awkward. And there are a number of issues with the plot. Yet, An Invisible Sign is mildly entertaining and has some charming moments.
Dann Michalski
Super Reviewer
This film took me by surprise. From the trailer, I wasn't expecting much. However, after watching the film, it took me pleasantly by surprise. I thought it was really well done. This happens to be one of Jessica Alba's best performances so far. She definitely shines here. She has a good on screen chemistry with Chris Messina. Chris is good here too. John Shea and J.K. Simmons provide some solid supporting work here. I definitely recommend this film.
Tries desperately to be a quirky indie drama, but all the oddball characters and twee songs in the world can't save this dull and mostly pointless mess. Only diehard fans of Jessica Alba should try sitting through this, and trust me, it's still going to be tough.
An Invisible Sign Quotes
There are no approved quotes yet for this movie.