An Evening with Kevin Smith
(2001)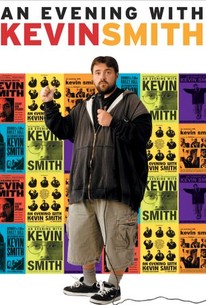 Movie Info
Director Kevin Smith records a series of question and answer sessions he held at various universities and releases them in this package. Smith, always a good storyteller, fields questions about his films, his career, and his forays into acting with a series of crowds that welcome him and are appreciative for his knowledge, his time, and his humor.
Critic Reviews for An Evening with Kevin Smith
Audience Reviews for An Evening with Kevin Smith
Divertido e engraçado. Prende o espectador atà (C) o fim, e apesar de 225 minutos, faz a pessoa querer mais. Obrigatório!!!
Lucas Martins
Super Reviewer
Kevin Smith has such an uncommon gift in the realms of story telling and situational comedy that he can make even a nearly four hour Q and A session seemingly fly by. If your a Smith fan this is comedic gold. Even if your not a fan you may find a lot to like here.
There are a few funny stories, but most of the time spent watching this movie is wasted on watching people applaud and Smith jokingly ask college students to blow him. He's charming, but even after watching him for about four hours, I don't feel like I know him any better than I did before. That said, I will never forget the story about Mewes blowing anything phallic in a rec center.
Jim Hunter
Super Reviewer
An Evening with Kevin Smith Quotes
There are no approved quotes yet for this movie.