Amy
(2015)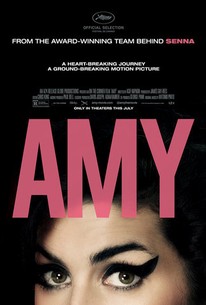 TOMATOMETER
AUDIENCE SCORE
Critic Consensus: As riveting as it is sad, Amy is a powerfully honest look at the twisted relationship between art and celebrity -- and the lethal spiral of addiction.
Movie Info
Despite just two albums to her name Amy Winehouse is one of the biggest music icons in British history. With a voice oft described as a combination of Billy Holiday, Dinah Washington and Sarah Vaughan, Amy Winehouse was a pop star with soul; a once in two generational musical talent whose appeal crossed cultural and demographic boundaries. But while her music made her a star, her chaotic personal life stole headlines.
News & Interviews for Amy
Audience Reviews for Amy
½
A sad account of an incredibly talented yet tragic artist who fell victim to drugs and self-destruction, but the film disappoints and seems like a mere collage of archive footage and interviews to create a relatively superficial narrative of her life and not much else.
Carlos Magalhães
Super Reviewer
½
Not really a fan, but I was interested to see this. I didn't really know much about Amy aside from the car crash angle of her life. This gives you a good insight into her background and how things went the way they did. Honestly though, I think her life could have turned that way even if she wasn't famous. She just seemed very self destructive in personality. I don't personally love her style of music, but she did have talent and you can see that from the lyrics she wrote and of course her beautiful voice. I did feel quite sad for her, but on the other hand she really needed a kick a few times in her life. You can blame the parents, which she did, but at some point you're an adult and need to take responsibility for your own life choices. Not to sound harsh, I realise some people just can't. Amy was clearly one of them. This film does a good job of letting you see the Amy behind the horror stories. Sad.
Nicki Marie
Super Reviewer
"Amy" follows the life of Amy Winehouse, from being young and having a troubled life to her fame and fortune that ultimately lead to her demise. Not only is this an emotional story to tell, but her music truly did change the lives of people around her, as well as her family, whom had neglected her. This film is uniquely made, due to the fact that the interviewees are not shown, rather heard overtop images/videos of themselves. This is a very unconventional documentary in style and tone. I loved watching this film, although it does feel it's length. To really get everything out of this picture that you hope to, I fell that you must be a huge fan of Amy Winehouse to begin with. I really enjoyed this film, because I respect her music and most of what she stood for, the troubles aside. The people in her life respected and adored her most of the time, so once the down spiral happens, it is extremely impactful and it truly is the core of this story. Her music even affected world renowned musicians and that is what gave me chills. "Amy" is a very well-made documentary that I will only be able to watch once, but it is extremely effective.
Amy Quotes
There are no approved quotes yet for this movie.