Amityville II: The Possession
(1982)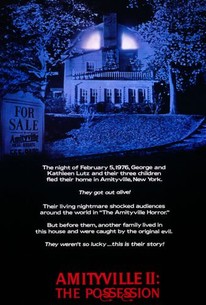 Amityville II: The Possession Photos
Movie Info
This prequel to The Amityville Horror portrays the "whys" and "wherefores" regarding the plightfully possessed Amityville house of terror as it describes a house full of unhappy people whose troubles breed troubles in a demon-generating atmosphere of creepy creations.
Critic Reviews for Amityville II: The Possession
Audience Reviews for Amityville II: The Possession
½
Decent follow-up to the Amityville Horror. For what it is, it's a fun little film that delivers mild chills and I think that the filmmakers should have only made one sequel. Although not perfect, this one is better than most and it is the final sequel that is actually worth seeing. The cast do a good job with the material at hand, and though not perfect, the film tends to rely on atmosphere to create tension, with enough entertainment value to thrill genre fans. Although not as good as the first, this one still is fun for what it is, and is a worthwhile sequel to the first film. I liked this one and I thought it was entertaining despite its flaws, and it is a film that genre fans should check out if they want to be mildly entertained In terms of a haunted house film, it could have been better, however it is far better than all the other sequels that came out after this one. Enjoyable as a guilty pleasure or if you have nothing else better to do, Amityville II is a pleasant time waster for what it is, just don't go expecting something great with this one either. The story is decent and it is interesting, and delivers haunted house fun despite its flaws. The film along with the first are good for what they are, just avoid every other sequel as the creative aspect would suffer significantly and each entry would become more ridiculous than the previous one. This is a fine second film that is underrated and is much better than what many critics have claimed it to be.
A dark, disturbing and creepy prequel to the Amityville Horror, which itself was pretty good, but this one I found to be better and quite underrated. It borrows heavily from The Exorcist, but if you found The Exorcist creepy and scary than this will likely be giving you a similar horrifying experience.
An extremely strange horror movie, and not always in a good way, I don't know, I suppose some people might like this movie if you like ones where things happen that don't normally happen in movies. It's not too bad, but it's kinda crazy and sort of combines elements of other popular horror movies too.
Amityville II: The Possession Quotes
There are no approved quotes yet for this movie.