Amigo
(2011)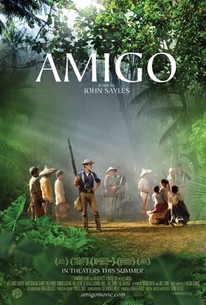 Movie Info
Amigo, from writer-director John Sayles, stars legendary Filipino actor Joel Torre as Rafael, a village mayor caught in the murderous crossfire of the Philippine-American War. When U.S. troops occupy his village, Rafael comes under pressure from a tough-as-nails officer (Chris Cooper) to help the Americans in their hunt for Filipino guerilla fighters. But Rafael's brother (Ronnie Lazaro) is the head of the local guerillas, and considers anyone who cooperates with the Americans to be a traitor. Rafael quickly finds himself forced to make the impossible, potentially deadly decisions faced by ordinary civilians in an occupied country. A powerful drama of friendship, betrayal, romance and heartbreaking violence, Amigo is a page torn from the untold history of the Philippines, and a mirror of today's unresolvable conflicts. -- (C) Official Site
News & Interviews for Amigo
Audience Reviews for Amigo
½
"Amigo" is a small, interesting little low-budget film that benefits from beautiful photography and Sayles' well-paced direction. For its two hour running time, it breezes by and remains consistently entertaining. A few performances are off and the costume design is bland, but "Amigo" is another fine outing from one of cinema's greatest storytellers.
Stephen Earnest
Super Reviewer
"Amigo" starts out on an ordinary day in the baryo of San Ysidro in the Philippines in 1900 before the silence is broken by the American army invading to restore order. Joaquin(James Obenza) escapes just ahead of the army's bullets to join the insurrectionaries led by his uncle Simon(Ronnie Lazaro), while leaving behind his father Rafael(Joel Torre) to lead the village. The Americans also release the prisoners held by the insurrectionaries, allowing them to go to Manila but Father Hidalgo(Yul Vazquez) agrees to stay as there are souls to save and people to annoy. Lieutenant Compton(Garret Dillahunt) is eager to move on also but Colonel Hardacre(Chris Cooper) orders him to stay behind so his soldiers can head off any rebellion. "Amigo" is John Sayles in fine form in that he not only captures the rhythms and details of another time and place, with a little known bit of history which I had studied back in college, but also in telling a timeless story that admittedly does have a hokey and drawn out ending. He also economically employs scraps of dialogue to fill in the backstory on the various characters. A lot of that goes to his talent for telling a story from as many different angles as possible which keeps the villains to a minimum and not sugarcoating the actions of the insurrectionists. If there is one, then I would like to volunteer the colonel, as his actions will have repercussions for decades to come. It's not just the writing that is to be applauded but also an excellent use of crosscutting between similar activities as performed by different groups and the best metaphor ever for cockfighting. Throughout, it is the Filipino people that have the most sympathy here, as underlined by Rafael when he points out that they are fucked from both sides.
Amigo Quotes
There are no approved quotes yet for this movie.