Amerika
(1987)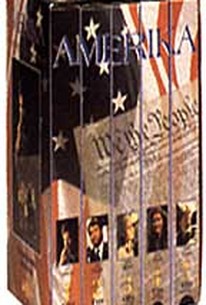 AUDIENCE SCORE
Critic Consensus: No consensus yet.
Movie Info
As the brainchild of writer-director-producer Donald Wrye, the 14 1/2 hour ABC movie event Amerika marked one of the most expensive and controversial miniseries in the history of prime time television when it bowed over the course of seven nights in February of 1987. Regarded as something of a conservative counterpoint to Nicholas Meyer's The Day After (which screened on ABC, four years prior and allegedly demonstrated leftwing bias - prompting very outspoken criticisms from Republican pundit Ben Stein), this $40 million production imagines a dystopian future set in the late 1990s. When the drama opens in May of 1997, the Russians have effectively won the Cold War by wresting control over the United States, with the backing of a U.N. Peacekeeping Force. Although the initial takeover was not annihilative or even apparently violent, the consequences are overwhelming; a puppet leader holds court in the Oval Office, the American economy has fallen to pieces with Midwesterners lining up for vegetables, and gulag prisons are scattered across the land; meanwhile, hundreds of thousands of refugees have hit the countryside and wander aimlessly. The majority of the action unfurls in a rural Nebraska community, where onetime antiwar protester and presidential candidate Devin Milford (Kris Kristofferson) has just been released from a gulag, and now discovers his family farm being whittled away by the Russians. Meanwhile, his childhood friend Peter Bradford has somehow landed a position in the government hierarchy and finds himself being drawn in more deeply. Across the land, Russian stormtroopers engage in acts of violent intimidation, such as burning farmhouses and brainwashing abductees, while the Russian occupiers systematically maneuver on the political front to bring the once-powerful republic tumbling down. The supporting cast includes Christine Lahti, Wendy Hughes, Sam Neill, Armin Mueller-Stahl and many others; the title, of course, was intended to reflect "America" as modified to a slightly more Russian spelling.
Critic Reviews for Amerika
Audience Reviews
There are no featured reviews for Amerika at this time.
Amerika Quotes
There are no approved quotes yet for this movie.