America's Sweethearts
(2001)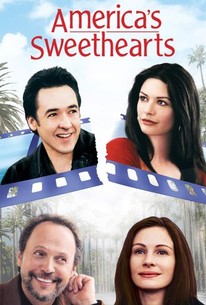 America's Sweethearts Videos
America's Sweethearts Photos
Movie Info
For an awkward, self-conscious girl like Kiki, being the personal assistant to a beautiful mega-star like Gwen isn't easy. But when she dutifully accepts the task of helping Gwen and her estranged mega-star husband Eddie make it through one last public appearance masterminded by legendary press agent Lee Phillips, forever devoted Kiki finds that her job is about to get even harder. At first it seems her challenge is to keep the peace between Gwen and Eddie and their public image intact, but soon Kiki is faced with a more personal concern as her longtime friendship with Eddie begins to take a romantic turn.
News & Interviews for America's Sweethearts
Critic Reviews for America's Sweethearts
Audience Reviews for America's Sweethearts
An all-star cast, indeed, but the film is lackluster in comedy even in romance. America's Sweethearts is a rom-com that does no favors in providing attention or even inspiration to the audience despite the amount of stars on display. 3/5
Eugene Bernabe
Super Reviewer
½
Interesting concept to a satire, but a very unfunny screenplay, and just make us lose a good time seeing more one dumb romantic comedy with famous making fun of they self. Rotten.
Lucas Martins
Super Reviewer
½
A comedy about celebrity, family and other forms of insanity. Not bad but not so good either. America's Sweethearts is one of those movies where if you've seen the preview, you've seen the movie. The story was kinda dull and boring at times. Hank Azaria's accent was one the ugliest accent I've heard before, it was truly hilarious to hear him speak. The ending was good though. America's favorite couple, in movies as well as in real life, has broken up: Gwen has fallen in love with Latin actor Hector, Eddie can't take it no more and has taken quite some time off in the lush gardens of a leading wellness guru. But there is a problem: The latest movie of Gwen & Eddie ("Time over Time") is being held hostage by its director Hal Weidmann. His only request is that it is shown to the press first, not even producer and studio boss David Kingman may take a look at it. Kingman now entrusts PR wizard Lee Philips, whom he just had fired, to organize a press junket that none of the journalists will ever forget - just to distract the press from the fact that the film itself won't be shown at all. Therefore, Lee somehow has to bring Gwen and Eddie back together, at least for that one weekend, in a lonely hotel resort in the Nevada desert. Not quite everything works out the way Lee wanted it to, since Gwen's sister and assistant Kiki also has a mind of her own.
America's Sweethearts Quotes
There are no approved quotes yet for this movie.