American Violet
(2009)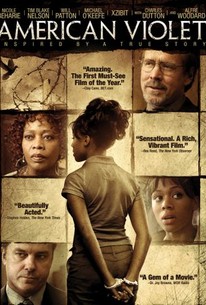 TOMATOMETER
AUDIENCE SCORE
Critic Consensus: Though its politics are as obvious as its outcome, American Violet is an earnest docudrama about the justice system with a powerful performance from Nicole Behairie.
Movie Info
Dee Roberts is a 24-year-old, African-American single mom struggling to make ends meet in a small Texas town. When cops arrest her in a drug sweep, she insists on her innocence. Even though Dee has no prior drug record and no drugs were found on her in the raid or any subsequent searches, she is offered a hellish choice: plead guilty and go home as a convicted felon or remain in prison and fight the charges thus, jeopardizing the custody of her children and risking a long prison sentence. She chooses to fight the district attorney and the unyielding criminal justice system he represents. Joined in an unlikely alliance with an ACLU attorney and former local narcotics officer, Dee risks everything in a battle that forever changes her life and the Texas justice system.
News & Interviews for American Violet
Critic Reviews for American Violet
Audience Reviews for American Violet
½
It's a story that's been done many times, and it's a bit predictable, but American Violet is a gripping docudrama about the Texas justice system that features powerful and award-worthy performances from the whole cast but I expect nothing but greatness and stardom for Nicole Behairie. (Alfre Woodard is also amazing).
Raymond Wieser
Super Reviewer
½
Really, really good movie. Unreal that this stuff really happened, and still happens. I love a good true story, especially if it has Alfre Woodard in it. I cannot believe that this District Attorney was never fired, AND was re-elected to boot. What a world we live in. sheesh
Cynthia S.
Super Reviewer
½
Nichole Beharie as Dee Roberts gives a truly inspiring performance as a mother, living in the projects, who is wrongly accused of drug dealing, and then is caught up in a corrupted criminal justice system that railroads those who have little way of defending themselves against a system created to protect them. The message here, while being a bit heavy handed, needs to be said, and the film does a very good job of delving into the consequences of a political system that simply bulldozes people for government funding, not caring what happens to those they trample. There are some very touching scenes where Dee is jailed for 21 days for a crime she didn't commit; including a scene where she is allowed ten minutes to see her children - through a small grimy piece of glass that is stuck high up in a doorway. The will of this woman to perservere is astonishing, and the film does a nice job of showing you what would have happened if she had taken the offered plea bargain - a felony record that would prohibit her from receiving any kind of government assistance; from food stamps to housing - and, having a criminal record would severly hamper her attempts at finding a job, which of course could possibly lead to child protective services taking her children. Dee has enough problems just getting on with life - trying to raise her children, with her children's deadbeat dad and his abusive girlfriend in the same building, and yet even after her conviction is overturned, her subsequent case (spearheaded by the A.C.L.U.) puts her in the D.A.'s crosshairs - who uses his substantial infuence to not only prevent her from returning to her job of 7 years, but even makes sure that she is terminated from the minimum wage job she finally manages to procure. All for a good arrest record, which not only serves to line the county coffers via federal funds, but keeps the D.A.'s "tough on crime" credo in the spotlight - and, ugliest of all, satisfies his predudice against people of color. Still, Dee persists, and the D.A. is forced to make restitution to those wrongfully accused; but the bigger victory is that the law in which a person could be tried based on information provided by a single source,without corroborating evidence, was overturned. This is a very forthright docu-drama, earnestly filmed, that includes an inspiring lead performance and some equally fine supporting performances by the likes of Alfre Woodard, Will Patten, Tim Blake Nelson, and Charles Dutton.
paul sandberg
Super Reviewer
American Violet Quotes
There are no approved quotes yet for this movie.