American Swing
(2009)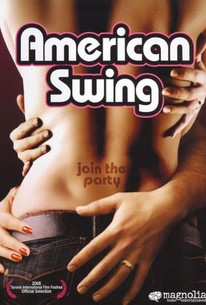 Movie Info
Filmmakers Mathew Kaufman and Jon Hart explore the last gasp of the sexual revolution with this profile of Plato's Retreat -- New York City's most notorious, 1970s-era sex club. The year was 1977: the city was in the suffocating grip of a heat wave, nerves were rattled due to the energy crisis, and the social unrest was growing. But when the sun went down over the city, the nightlife flourished. The discos were packed, cocaine was all the rage at Studio 54, and over at CBGB the punks were smashing it up. Inspired by the open sexuality in gay clubs all across town, Larry Levenson hatched the idea to open a club where people could have sex freely, without shame or threat of lawful consequences. On the surface Levenson appeared to be just your average family man, but by night he would leave his wife at home to live it up at local swingers clubs. It was with the help of some particularly shady investors, as well as his girlfriend Mary and a series of steamy public-access commercials, that Levenson made his dreams of opening an extravagant, heterosexual sex club a reality. There were no inhibitions at Plato's Retreat, as highlighted by the numerous vintage clips showing the swingers paradise in its heyday. But while the city ultimately failed in their efforts to pass ordinances that would close Plato's Retreat, the club flourished until the closing of its doors on New Year's Eve, 1985, an erotic casualty of the growing AIDS crisis. Interviews with Melvin Van Peebles, Ed Koch, as well as other journalists, celebrities, and actual club employees paint a vivid image of the carefree era before sexuality was a matter of life and death. ~ Jason Buchanan, Rovi
News & Interviews for American Swing
Critic Reviews for American Swing
Audience Reviews for American Swing
One of the complaints over the years about documentaries is how very unsexy they usually are. To contradict that complaint, along comes "American Swing" which is about the rise and fall of Larry Levenson who owned the legendary swinger's club Plato's Retreat in New York City. While it is implied that he was just there to have sex with everything that moved, at least he was open about his desires without shame, even going on any number of talk shows including Phil Donahue. The documentary is liberally illustrated with explicit photographs and videos taken inside the club, which while interesting from a historical angle, do not improve on anything we could have imagined ourselves. Of the talking heads, there are adult entertainment veterans including Ron Jeremy, Dian Hanson and Annie Sprinkle but the movie makes no connection between the pornography industry and swinging. On a wider basis, the documentary partially successfully fits the club in a wider discussion of the sexual revolution, especially related to suburban couples, as Plato's Retreat allowed suburbanites from Long Island and New Jersey(definitely NOT my parents, by the way) to escape into anonymity where their neighbors would be unaware what they were up to(unless they were there, too). However, the film fails to mention the second club on 34th Street was just a short walk away from Penn Station. The most liberating part for the participants was sometimes not the sex but the acceptance of all body types. For women, it could be a mixed bag, either a continuation of patriarchal attitudes or a free exploration of their own desires. Like all parties, the one at Plato's Retreat had to end, too. Where once the worst that could happen would be a bad case of crabs, in the 80's it was AIDS and the end of an era.
½
Nothing groundbreaking, but it was entertaining. Might've been better if it was focused on "swinging" in general rather than on one man.
Sarah Prisbylla
Super Reviewer
½
This eye-opening documentary captures the mood of America when the sexual revolution pendulum has swung a little too far and slezy rot had started to set in. It looked like the 1970's porn in the live sex club, Plato's Retreat created by Larry Levenson - the "King of Swing". It is a roaringly entertaining but ultimately bittersweet look at the truly fascinating man.
Dean McKenna
Super Reviewer
American Swing Quotes
There are no approved quotes yet for this movie.