American Psycho II: All American Girl
(2002)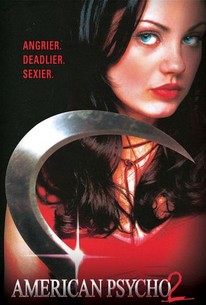 American Psycho II: All American Girl Photos
Movie Info
In this chilling sequel, deranged killer Patrick Bateman's murderous legacy lives on in one of his survivors (Mila Kunis). She's a coed who's competing for a job as assistant to a famous serial-killer hunter. Her strategy for landing the post: murder. William Shatner, Geraint Wyn Davies, Robin Dunne, Lindy Booth.
Critic Reviews for American Psycho II: All American Girl
Audience Reviews for American Psycho II: All American Girl
Direct to DVD sequel to American Psycho, American Psycho 2 is unrelated to the first; but is kind of easy to see why this film is viewed as a sequel. This one doesn't deliver, and personally I think that it was pointless to make this film as it has nothing to offer. The film has poor acting, the cast is horrible, the story is bad and the directing is sloppy. American Psycho 2 contains all the traditional elements of a straight to DVD title. The film also has miscast roles including William Shatner as the professor and Mila Kunis. I felt that nothing really clicked, and the film was simply bizarre. As far as I'm concerned, American Psycho was a perfect stand alone film that had plenty of unnerving and disturbing elements. The film is sloppy with no effort in trying to create something watchable. The film simply tried to cash in on the success of the first by using rehashed ideas, This film insults Bret Easton Ellis who wrote the book. Fans of American Psycho should pass up on this at all costs as it is a poorly crafted film with no good payoff or story for that matter. While American Psycho had great psychological horror elements that really made it a disturbing film to watch, this film lacks those elements and it just doesn't deliver. This an awful train wreck of a film that will displease fans of American Psycho. The film is one of the worst sequels that I've seen, and being straight to DVD it's no mystery why. Sequels like this should give film studio a clue not to invest money into garbage like this.
½
Well this certainly sucked... Just a bad movie. Nothing like the original (not that I expected it to be but you know...they could have tried...) and to top it all off....bad acting as well. Thumbs up!
Martin Sahlin
Super Reviewer
Rachael's Mom: Sweet Jesus, it smelled like someone died in here! After just watching the original American Psycho and loving it; my curiosity got the best of me and I watched this piece of crap. Why they made a sequel; I don't know. This movie probably would have been better if it had no connections to American Psycho. American Psycho II: All American Girl tries to be funny, but it's just lame. The narration from Mila Kunis is piss poor as is her performance. How she went from this to Forgetting Sarah Marshall and Black Swan is pretty incredible. Obviously Lionsgate looked at this as a potential money grabber, cashing in on the first. Maybe if they had tried to make something that made sense in connection to the first; this would have worked better. But when it's all said and done, this is just endless garbage from start to finish. The ending is totally unbelievable and completely moronic. This really didn't deserved to be made.
Melvin White
Super Reviewer
American Psycho II: All American Girl Quotes
There are no approved quotes yet for this movie.