American Perfekt
(1997)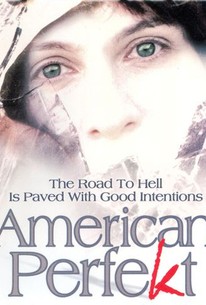 AUDIENCE SCORE
Critic Consensus: No consensus yet.
Movie Info
In this quirky and chilling thriller, the lives of four mentally unbalanced desert travellers violently collide. Sandra is a depressed woman heading to pick up her streetwise sister Alice, Jake is a stressed out criminal psychologist and Santini is an angry lunatic. One of them is a serial killer.
Critic Reviews for American Perfekt
All Critics (3) | Top Critics (1) | Fresh (1) | Rotten (2)
The film fell too quickly into the serial-killer mode and lost the edge it never had but always wanted.
[American Perfekt] wants to get by on quirkiness and so-called charm alone, and it just doesn't work.
Audience Reviews for American Perfekt
This was one of those crime thrillers that came along in the wake of Quentin Tarantino's emergence and tried to emulate his style for 'cool' violence. The only thing this has in common with Q.T. though, is Pulp Fiction's Amanda Plummer and Jackie Brown's Robert Forster in the cast. The rest pales in comparison, and frankly, I don't see much of a resemblance. A young woman (Faruza Balk) travelling through the desert on her way to meet her sister (Plummer) crosses paths with a psychotic physician (Forster) who decides his actions on the flip of a coin. When I seen this years ago, I was thoroughly entertained and thought it was a highly original and exciting film. On second viewing, it doesn't quite stand up to scrutiny. The originality I thought it once had is basically taken from novelist Luke Reinhart's "The Dice Man". What is an intriguing premise is played out with such a lack of urgency that it becomes very tedious, very quickly. It picks up when Fairuza Balk arrives in town though and Forster's psycho pychologist begins to reveal himself. However, he's still a little tepid and despite a decent performance, he's not nearly menacing enough. There are a few things worthy of admiration but it's the pacing that's all wrong, letting down a decent cast and missing an opportunity for genuine thrills. A half baked psychological thriller that aims high but ultimately falls hard from it's intended target.
Mark Walker
Super Reviewer
½
This went straight to DVD in the US, which is not a good sign, but it's a very decent, if odd, Tarantino-esque film with some great performances by Fairuza Balk and Robert Forster. Worth a look...
Daniel Parsons
Super Reviewer
American Perfekt Quotes
There are no approved quotes yet for this movie.