An American Haunting
(2006)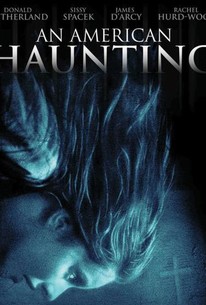 An American Haunting Photos
Movie Info
The wind whispers ominous warnings of death before a malevolent entity arrives to claim the life of a young girl as director Courtney Solomon brings author Brent Monahan's chilling, fact-based story of supernatural murder to the screen in this tale of terror starring Donald Sutherland and Sissy Spacek. The year is 1818 and the Bell family is a quiet clan residing on a remote farm in Red River, TN. A normal, loving family by all accounts, the uneventful lives of the Bell family begin to take a dark turn when strange noises around the farm are followed by the arrival of a black wolf with piercing yellow eyes said to strike unspeakable fear into the very soul of all who encounter it. As the sadistic spirit singles out the youngest daughter of the Bell family for torment and her frightened parents search frantically for a rational explanation to the chilling events unfolding in their once-happy home, an eerie, disembodied voice promises death from beyond the grave. With the struggle rapidly turning violent and the Bells' desperate prayers for mercy going unanswered time and again, the shocking murder that followed would prove the only case in recorded American history where the death of a human being was directly attributed to an attack by an evil entity or spirit.
News & Interviews for An American Haunting
Critic Reviews for An American Haunting
Audience Reviews for An American Haunting
Clichéd horror film that had the potential of a truly great experience, An American Haunting is one of those films that looks very promising, but fails to deliver on a truly great idea. What we have here is a bunch of bland, mindless predictable jump scares mixed with poor performances. This is one movie that really should have been a wonderful horror film, but it fails due to the fact that its ideas presented on-screen are things that we've seen many times before in other, better genre films. Here we have a good cast wasted on a poor script, and it's a shame because An American Haunting is a very good looking movie, but there is simply no substance to back up the nice atmosphere and tone. What we have here in terms of a horror film is a big disappointment and it just doesn't have enough going for it to make a good movie, the film lacks in genuine chills and thrills and like I said just recycled ideas that we've seen with no care on creating a truly tense, riveting horror film that is engaging from start to finish. The tone of the film is quite ridiculous and if you want a great horror film, you won't find it here. This awful to mediocre horror and it is a movie that fails to really grab your attention the way a film in this genre should. Don't go into this one expecting great things from it, it's a film that just doesn't have anything going for it, and despite the casting of Donald Sutherland, it simply doesn't have any memorable moments of sheer horror, and the film ends up being a lazy affair that is a missed opportunity to make something really stand out.
For some reason I expected so much more from ths film, I was told that I had to see it, Now I wonder Why. But its a good rainny night oh hell I am alone film. Its in my collection, only cause I brought it before seeing it, Buy it used, not new. 3 Stars
Bruce Bruce
Super Reviewer
Movie adaption of the Bell Witch haunting/possession that occurred back in the 1800s. Not too bad actually, it never scared the pants off me but it does have some chilling moments and is nicely paced with the haunting scenes flowing frequently. What lets it down is the lack of atmosphere which is killed due to the flashy way it's been shot and the unscary moments of CGI ghosts. The shoddy ending is also a let-down and really is quite offensive to the actual people involved in the incidents.
An American Haunting Quotes
There are no approved quotes yet for this movie.