American Grindhouse
(2010)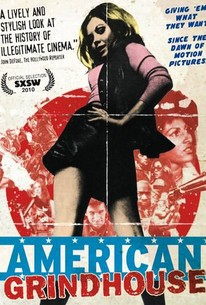 American Grindhouse Photos
Movie Info
Dive into the sordid history of American exploitation films in this documentary narrated by Academy Award-nominee Robert Forster, and featuring interviews with John Landis, William Lustig, Larry Cohen, Jack Hill, and Herschell Gordon Lewis. This is the story of the movies that kept audiences coming back to the cinema for more, and the filmmakers who helped turn bad taste into fine art.
Critic Reviews for American Grindhouse
Audience Reviews for American Grindhouse
Informative, entertaining and unforgettable, American Grindhouse it's a great study about exploration movies, U.S. modern pictures inspirations, the fight to adapt "cinema fashion" and win money. A trip into remarkable and 'bad taste' films. Criative and inspired, dispite doesn't mention some important people in underground low budget industry cinema. Fresh.
Lucas Martins
Super Reviewer
This follow-up of sorts to NIGHTMARES IN RED, WHITE AND BLUE provides a history of (non-horror) exploitation films in the U.S. Compared to NIGHTMARES, this shorter documentary covers its shallower subject in greater depth (if that makes sense).
Not perfect. Skips over some important figures such as Roger Corman. However, a pretty excellent primer on one of the most notorious and misunderstood genres in cinema history.
American Grindhouse Quotes
There are no approved quotes yet for this movie.