American Gigolo
(1980)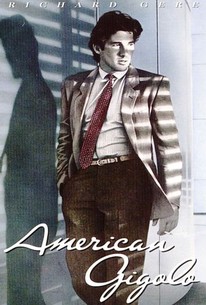 TOMATOMETER
AUDIENCE SCORE
Critic Consensus: While Paul Schrader's clinical direction and Richard Gere's muted performance don't stir much passion, American Gigolo succeeds as a stylish character study.
Movie Info
A slick Los Angeles callboy finds love and redemption in Paul Schrader's ultra-stylish drama. High-living prostitute Julian Kay (Richard Gere, stepping in for John Travolta) has it all: the Mercedes, the clothes, access to Beverly Hills' swankiest establishments, and a stable of rich, older female clients. But it all falls apart after he does a favor for his former pimp (Bill Duke) and the trick turns up dead a short while later; Julian's actual client won't give him an alibi, and police detective Sunday (Hector Elizondo) doesn't believe the gigolo's denials. The one person who can help him is frustrated politician's wife (and sole non-paying bedmate) Michelle (Lauren Hutton), if only Julian could let down his defenses and accept her gesture of love. Mixing his admiration for European art cinema with a voyeuristic view of the seamier side of sex and affluence, Schrader renders Julian an inscrutable, emotionally disengaged purveyor of pleasure, decked out in Giorgio Armani clothes coordinated with Ferdinando Scarfiotti's meticulous production design. Amid critical doubts about its artiness and distanced eroticism, American Gigolo surprised everyone by not dying on the box office vine. With some audiences reportedly showing up for repeat viewings of Gere's seductive charms, it became a moderate hit, turning Gere into a star and Armani into the new fashion sensation. Whatever reservations one may have about the movie, it provided two indelible images of 1980s decadence to come: Gere's perusing his "artist's palette" of shirts, ties, and jackets, and Gere's cruising down the Pacific Coast Highway in his convertible to the New Wave strains of Blondie's "Call Me". ~ Lucia Bozzola, Rovi
News & Interviews for American Gigolo
Critic Reviews for American Gigolo
Audience Reviews for American Gigolo
Paul Schrader's homage to Bresson's Pickpocket proves three things: 1) Being a good screenwriter doesn't automatically make you a good director. 2) Hector Elizondo was bald even when he was young. 3) Richard Gere cannot carry a film to save his life.
Jonathan Hutchings
Super Reviewer
I think that American Gigalo is an underrated movie to say the least. Most people who do admit to being a fan of it say that it's just because they like Richard Gere in anything. Not only do I think this is a whole-heartedly good movie, it's way more conscious of its time period and atmosphere than pretty much everything else that it was released against. Sure we have some great criticisms of the 80s, made a full decade later. This judges contemporary lifestyles and even narrative expectations. It doesn't hurt that American Gigalo is a beautiful movie to look at; it makes all the content so much more digestible and even backs up the argument. This shows beautiful people doing bizarre things, having a shady moral code and getting away with murder (practically).
Conner Rainwater
Super Reviewer
½
First of all, excellent cinematography and cool music (it was all based on Blondie's song call me). What I didn't like was the cast, they weren't that great, especially Gere. The best part was the end. Overall, it's a pretty good drama, but it really could have been better.
American Gigolo Quotes
There are no approved quotes yet for this movie.