Amelia
(2009)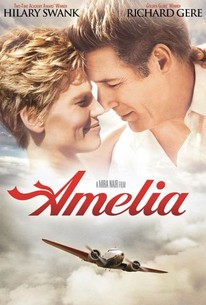 TOMATOMETER
AUDIENCE SCORE
Critic Consensus: Amelia takes the compelling raw materials of its subject's life and does little with them, conventionally ticking off Earhart's accomplishments without exploring the soul of the woman.
Movie Info
An extraordinary life of adventure, celebrity and continuing mystery comes to light in "Amelia," a vast, thrilling account of legendary aviation pioneer Amelia Earhart. After becoming the first woman to fly across the Atlantic, Amelia was thrust into a new role as America's sweetheart -- the legendary "goddess of light," known for her bold, larger-than-life charisma. Yet, even with her global fame solidified, her belief in flirting with danger and standing up as her own, outspoken woman never changed. She was an inspiration to people everywhere, from First Lady Eleanor Roosevelt to the men closest to her heart: her husband, promoter and publishing magnate George P. Putnam, and her long time friend and lover, pilot Gene Vidal. In the summer of 1937, Amelia set off on her most daunting mission yet: a solo flight around the world that she and George both anxiously foresaw as destined, whatever the outcome, to become one of the most talked-about journeys in history.
News & Interviews for Amelia
Critic Reviews for Amelia
Audience Reviews for Amelia
Amelia is a flawed, but nonetheless entertaining biopic on the adventures of Amelia Earhart. Although the film flawed, the movie does have a strong lead performance by Hilary Swank in the title role, and she is wonderful in the part. The film's limitations are overcome with Swank's engaging performance. The film tends to be a little light in content, considering that Earhart is such an iconic historical character. But there are enough elements here to make it an interesting viewing. Overall this is a good film, but there could have been a bit more material added to the script to really make this one stand out. Amelia is a good film, but will certainly disappoint viewers looking for a great biopic to watch. The film should have focused lot more on the achievements of Earhart and made it a slightly longer picture. Enjoyable drama for what it is, Amelia is a well acted picture with a good story that had the potential of being so much better. Like I said, Hilary Swank's acting holds this film together and manages to make the film worth seeing. Amelia Earhart's story is truly compelling and exciting, but ultimately sad due to the fact that her final adventure ended with her disappearance and death. This film can introduce you to her wonderful and exciting life, but if you want the in depth facts of Amelia Earhart's life, this film will leave you wanting more in that area. Worth seeing, and despite its flaws, it's underrated and it deserves to be seen, as it has the knack of making the viewing wanting to know more about this incredible icon.
½
A boring and utterly pedestrian chunk of Oscar bait, "Amelia" is the film equivalent of reading a wikipedia page; you get the gist of the story but it's not particularly memorable and just doesn't do it's subject justice. Lazy writing and generic direction (Mira Nair - "Monsoon Wedding") plague the film, as does the shockingly poor lead performance from the incredibly inconsistent Swank. At two hours, the film started to drag and take it's toll on me, adding to an already unpleasant home video experience. Skip this film and just turn to Scorsese's 2004 near masterpiece to get your aviation fix and to see just what a Biopic can be!
Hilary Swank delivers a good performance as the legendary American aviatrix, Amelia Earhart, who boldly flew into the annals of history. The film is not just about one person, but about a person's dreams, desires and ambition. Ameila lectured and spoke out for women's rights, advocated for them to follow their dreams of either became a pilot like her, or just living their life the way they wanted to. The airplanes and the overall look of the 1930s are wonderful in here, often capturing my attention more than the dialog.
Dean McKenna
Super Reviewer
Amelia Quotes
There are no approved quotes yet for this movie.