Altar
(2014)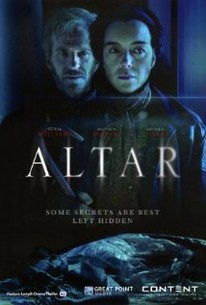 AUDIENCE SCORE
Critic Consensus: No consensus yet.
Critic Reviews for Altar
All Critics (1) | Fresh (0) | Rotten (1)
Haunted house clichés are okay with horror movie fans as long as you show us something new as well. Unfortunately, "Altar," is neither scary nor original.
Audience Reviews for Altar
This is not important, but the last film I watched before this was a repeat, The Devil's Rejects, so that's why there was no review. I've reviewed The Devil's Rejects on here and, seeing as it's one of my older reviews, I'm pretty sure that it'd be embarrassing to look back on it as it's probably even more poorly written than my current reviews. Moving on to this film, however. Olivia Williams is an excellent actress. I think it's been obvious for a long time that she's a great actress. So, unless you're outright stupid, then it's fairly difficult to make her look bad. Well that is until this movie. Well, it's not that she looks terrible or anything of the sort, but she doesn't look as good as talented as I know she is in this movie. Whether that is her heart simply not being into this movie, the scripting or just the way her performance was edited together, she just doesn't seem to be as good. I think it's a combination of all three honestly as I don't think that Olivia was truly into this as much as some of her other roles. And the mark of a truly great actor/actress is the fact that they'll give it their all no matter what and I don't believe that Olivia truly did give it her all. Maybe she didn't believe in the project and just did it for a paycheck. Can't say that I blame her, the film really is quite poorly scripted. This is every 'family moves in to new house that ends up being haunted' horror film you have ever seen. There's just one exception. Usually, in the best of these films, they actually attempt to have some scares. You can't say about this film. It mostly wants to rely on the creepy atmosphere of an old Victorian mansion. I don't think the film, honestly, really even tries to have some scares. It's just slowly treading water before getting to its climax, which is a slight improvement over everything that came before it, but it's simply too late by this point to make any substantial impact in the quality of the film. There's just honestly nothing going on here that would warrant the film going as long as it did. It's slow, plodding and uninteresting. I don't wanna say the acting is poor, but it is no good. No one looks like they really want to be there doing what they're doing. And when the actors don't care, why should you, the viewing audience, care about what happens. The ending itself is actually pretty good, even if it's not particularly clever or unique. This isn't what I would call infuriatingly bad. But it literally offers nothing that you haven't seen done better elsewhere. May I suggest The Others, for example. It's a movie with a similar style and it actually attempts to be scary and it's surprisingly effective at it as well. This is a bad movie that has no reason to exist.
Jesse Ortega
Super Reviewer
Altar Quotes
There are no approved quotes yet for this movie.