Along Came Polly
(2004)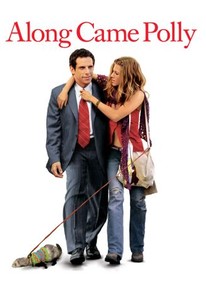 TOMATOMETER
AUDIENCE SCORE
Critic Consensus: Though the supporting actors are funny, Stiller and Aniston don't make a believable couple, and the gross-out humor is gratuitous.
Movie Info
Risk-averse Reuben Feffer, whose best-laid plans for life and love careen wildly off-track when his bride dumps him on their honeymoon for a muscle-bound scuba instructor. Stunned, humiliated and in the grip of acute indigestion, Reuben plans to play it safer than ever. But a chance adventure with an adventure-craving childhood friend named Polly, shoots him into a whirlwind of extreme sports, spicy foods, ferrets, salsa dancing and living in the moment.
News & Interviews for Along Came Polly
Critic Reviews for Along Came Polly
Audience Reviews for Along Came Polly
½
Well meaning but ultimately stilted (and supposedly) comic piece about opposites attracting that sadly fails. Hoffman (unusually cast), Baldwin and Azaria endeavour mightily to shock the dead here in secondary roles but the film's strict adherence to the well worn formula kills any laffs 5 minutes before the punchline arrives. Only for blue, blue days.
Kevin M. Williams
Super Reviewer
½
Sandy Lyle: Dude, no. This is serious. I just sharted. "For the most cautious man on earth, life is about to get interesting." Along Came Polly was a big surprise for me. With all the negative responses from critics, I thought this would be just another romantic comedy, and it is, but it's also not. It follows the same basic formula and there's the corny speeches and all that, but this is better than the standard romantic comedy. There really is a lot to like about it. From Alec Baldwin playing a gross boss to Phillip Seymour Hoffman as a washed up, but nonetheless arrogant and snide actor, the movie just hits the right notes. Rueben is on his honeymoon with the woman he plans on spending the rest of his life with, when... she fucks a scuba instructor and tells Rueben she's in love with him. Rueben returns his life and is obviously hurt emotionally; but when he runs into an old middle school classmate, Polly, he decides to ask her out. Rueben and Polly's different lifestyles clash though as Polly is a very easy going and spontaneous person, and Rueben is the very calculated, risk avoiding type. If there's anything I didn't like about the movie, it was the constant gross out humor. In a movie like, this one time is okay, but John Hamburg went all Farrelly Brother's with it and probably turned a lot of people off too. With that said this is still a good movie. I really liked the style of the film and I thought the writing, for a romantic comedy, was pretty good. It has the same sort of style as Meet the Parents or The Heartbreak Kid, which is where Ben Stiller is very comfortable, and maybe a bit too comfortable.  All in all, Along Came Polly is worth a look. I'm not a huge fan of the genre, but I like to watch all kinds of movies and Phillip Seymour Hoffman was in it, so that made this one an easy one to try out. It's not a great movie by any stretch, but it's fun and does some new things. 
Melvin White
Super Reviewer
½
Reuben (Ben) is dumped on his honeymoon when his wife runs off with the scuba instructor. He meets a former classmate Polly (Jen) who is very wild and different. Jen is always typecast so it is nice to see her in a more hippy chick role. Ben is so awkward and funny as usual. Very like 'Something about Mary'. Funny movie.
Candy Rose
Super Reviewer
Along Came Polly Quotes
There are no approved quotes yet for this movie.