Aloha
(2015)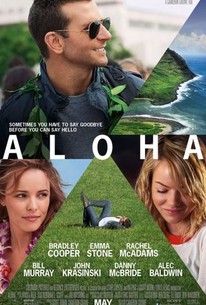 TOMATOMETER
AUDIENCE SCORE
Critic Consensus: Meandering and insubstantial, Aloha finds writer-director Cameron Crowe at his most sentimental and least compelling.
Movie Info
Bradley Cooper stars as a defense worker who teams up with a pilot (Emma Stone) to stop a satellite launch in this romantic comedy from Cameron Crowe. Rachel McAdams co-stars. ~ Jeremy Wheeler, Rovi
News & Interviews for Aloha
Audience Reviews for Aloha
All I can say is, thank Christ I didn't buy this before watching (as I was considering, being a rom com with Emma Stone and Rachel Mcadams). I lasted half hour. And what the heck was up with Emma Stone's tan. I get she was playing part Hawaiian, but it just looked freaky on her. This movie is a big mess. I couldn't follow it, probably because I was so bored I starting flicking through Facebook. I'm not a fan of Bradley cooper either, so it didn't help that this follows his character mostly.
Nicki Marie
Super Reviewer
½
Unfortunately an unfocused and meandering effort despite the tremendous talents involved. The wonder of this quite frankly, is how John Krasinski (of all people) and Rachel McAdams escaped unscathed.
Kevin M. Williams
Super Reviewer
Bradley Cooper plays Bradley Cooper in a convoluted Cameron Crowe dramedy that attempts to tackle everything under the bright Hawaiian sun: personal and professional redemption, race and colonialism, long-lost love juxtaposed with budding chemistry, macho-male stand-offs and whose-your-daddy doubt, and of course, military inside jokes and weapons of mass destruction. While there are plenty of problems with the movie, the media has focused on the whitewashing of the cast, which is a fair point when looking at the film's landscape as a whole. However, the criticism leveled against Crowe's choice to cast "white-looking" Emma Stone as an Asian woman is unfounded and racist in itself. That is because Air Force pilot Allison Ng isn't just Asian, just like how Barack Obama isn't just black. She is a quarter Hawaiian, a quarter Chinese, and half Swedish, and when Asian-Pacific is diluted down to 1/2, blond hair and blue eyes are within the realm of possibility. The criticisms are problematic because in terms of checking the ethnicity census box, when we identify mixed race people only by the non-white descriptor, it perpetuates the idea that white is the default - unnecessary to mention because it's so normal and not "unique" - and it also implies that the non-white side is what makes up the bulk of their personality or sociocultural identity, both of which are regressive assumptions. Crowe issued an apt non-apology for hurt feelings and explained his intent of portraying a real-life, blond-haired, blue-eyed Hawaiian/Chinese/Swedish woman he knew who embraced her Otherness while looking ostensibly White. East Asians have a slang term for those who are too assimilated into white culture: Twinkies - yellow on the outside, white on the inside. Allison would be called (perhaps pejoratively) an egg - white on the outside, yellow on the inside - and she does mention her heritage so much in the movie that it hints at some self-consciousness about her white outer appearance clashing with her mixed DNA, and she overcompensates by announcing her Hawaiian pride to whomever will listen. That juxtaposition makes for a really compelling character. Not necessarily more compelling than a Hawaiian/Chinese character who looks Hawaiian/Chinese and could be portrayed by a deserving Hawaiian and/or Chinese actress, but that's probably why Olivia Munn, Janel Parish, or Sandrine Holt, talented part-Asian-Pacific AND "Asian-Pacific-looking" actresses, weren't cast. Many people think color and ethnicity is all that matters for ethnic roles: "Why didn't Cameron Crowe cast any of these truly mixed heritage actresses?" Well, that seems to say that color and experience are interchangeable. Munn, Parish, and Holt are part-Asian-Pacific, and there's probably an actress out there who IS a quarter Hawaiian, a quarter Chinese, and half Swedish. Does that mean they are all more deserving of this mixed role? Do they understand the complex duality of in-group inclusion and out-group alienation more than Emma Stone does just by virtue of their skin color? We, as spectators and media critics, can't possibly know this or make that judgment call. We generally accept the fact that actors are actors, stepping into characters who may or may not share varying degrees of similarity with themselves, so why can't we accept that convention for multi-ethnic roles? We don't mind so much when Australian actors adopt American accents or when Black British actors play African American historical figures; we only mind if the attempt is unconvincing. However, when it comes to ethnic characters beyond black and white, we still need the ethnic character to conform to that congruous visual identification of being "ethnic-looking"; otherwise, we find it hard to suspend disbelief, which is a myopic worldview especially for such a diverse backdrop as Hawaii. While mainstream films can certainly incorporate more diversity, diversity for diversity's sake can become just as offensive as the lack thereof. Non-white actors walk a thin line when it comes to portraying non-white characters. They understand that "ethnic roles" are the only ones that their appearances fit, but they don't want a director to approach them to play such a character just because they have the ethnic look, even if the role is substantial. All any working actor wants is a meaty role, and in a truly diverse and equal world, Asians can play non-Asian roles and whites can play non-white roles (barring historical figures perhaps, or roles that redefine race out of spite, or reinterpretive roles that are merely star-making vehicles not in service of a strong story and authentic portrayals). After all, every person has ethnicity and every culture is ethnic; diversity doesn't just mean non-white. Emma Stone may lack Allison Ng's exact genetic make-up, but I didn't find her outer appearance unbelievable, perhaps due to her unique eyes (which are huge and anime-like when open and long slivers when she smiles, and yes, I'm employing stereotypical expectations of Asian eyes being "unique" here). I didn't find her undeserving of the role because she played the plucky, goofy, sassy role as written and was fairly competent at it, charming even. Now, the movie as a whole has a lot more narrative, character, political, racial, and scientific problems than Emma Stone playing a woman of mixed ethnicity. Allison isn't a bad role, but it's not a great role either. She is Crowe's epitome of the cute and clever supporting MPDG, and beyond the cool first shot of her donning her Aviators, we don't actually get to see Allison in her professional element; her flying competency is only ever complimented by men of high brass. If we are to blame Crowe for anything, it shouldn't be for his casting decision because Stone's look actually works for the "egg" he intended. If anything, we are blaming him for not writing a fully Asian-Pacific female romantic interest to begin with, but then we'd be asking for blanket affirmative action and not what we ask of artists: to make the piece of art they set out to make. If this is the movie he intended, well, maybe we should just blame him for making an uneven movie. Woody's angsty hissy-fit over Brian coming to town is sudden and inexplicable considering Tracy had been suffering Woody's radio silence for a while now. Brian's plan to foil the launch doesn't make much sense, and the nature of his entire contracting job is cloudy (another example of Crowe not doing his research on the occupations about which he writes *see or don't see "Elizabethtown"). My favorite moment does get a kudos though: Grace sees Brian outside her hula dancing studio, and she slowly realizes why he's there. The dawning look on young Danielle Rose Russell's face and her cathartic crying as she's simultaneously dancing is touching and impressive.
Alice Shen
Super Reviewer
Aloha Quotes
There are no approved quotes yet for this movie.