Alligator II: The Mutation
(1990)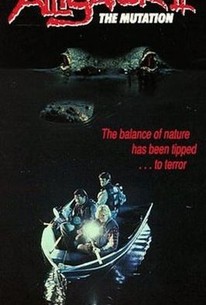 AUDIENCE SCORE
Critic Consensus: No consensus yet.
Alligator II: The Mutation Photos
Movie Info
In this low-budget screamer, obviously inspired by its predecessor Alligator (they're not from the same movie-makers), a monster-sized alligator threatens the "livelihood" of lakefront dwellers. The giant gator got that way because an unscrupulous land developer (Steve Railsback) had been dumping chemicals into sewage lines feeding a resort lake which apparently created the mutant alligator with the people-sized appetite. The local cop David Hodges (Joseph Bologna) along with his scientist-wife Christine (Dee Wallace Stone) set out to corral the critter, which shows up at the local amusement park, looking for more than corn dogs.
Critic Reviews for Alligator II: The Mutation
All Critics (2) | Fresh (0) | Rotten (2)
Not worth the watch and you might as well re-watch Jaws. Or Alligator.
If nothing else, Alligator II: The Mutation serves as a reminder of just how surprisingly good the original was.
Audience Reviews for Alligator II: The Mutation
½
Not so much a sequel as a parallel almost-remake. Alligator 2: The Mutation isn't as bad as I was expecting it to be, but given that I'd literally just watched the entire thing done better in every way only a few hours earlier in the first Alligator, it isn't exactly a success either.
½
Competently made, but it lacks an ingredient the original has in spades. Fun (and John Sayles). It also has a HORRIBLE Casio Synth score. *shudder*
Ken Stachnik
Super Reviewer
Hmm if any one is not familiar with my language let me same this movie up in a few lot of words. 死ねばくそひどいクソ映画 (Shit awful fucking film that should die) Eirin rating-Unrated [IMG]http://i54.tinypic.com/23tif5x.jpg[/IMG] This movie is a major pain in the ass from start to finish, I liked the first film to me that's 50-60% material, but its fun to watch because its jaws on land but an alligator. And it has some decent effects and a somewhat okay story that borrows heavily from jaws. And then out of nowhere they made a 2nd movie WTF???? It was just terrible I don't see why everyone doesn't give it a zero. A giant alligator runs riot in a small town with a lake connected to a sewer/drainage system. Typical plot; nobody believes the sightings until lots of people have been killed. [IMG]http://i52.tinypic.com/69ngpf.jpg[/IMG] There that's the story and that's it. 0% for story: Its annoying and stupid. 0% for acting: There laughing while there fucking screaming. 0% for special effects: Some of the worst I have ever seen AND wait I know that's scene, IT was from the first movie. 0% for characters: Need to write anything else??? 0% for everything else: This movie is just terrible. Stay away from this movie and if you can ban movies on Netflix (If you can) Ban this horrid demon. Keiko's score 0%
Alligator II: The Mutation Quotes
There are no approved quotes yet for this movie.