All the Right Moves
(1983)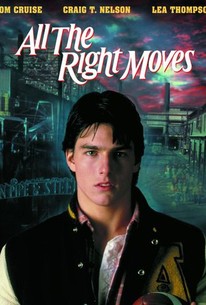 All the Right Moves Photos
Movie Info
A high school boy begins to think twice about what he really wants out of life as his coach is cajoling him to seek an athletic scholarship at a major university.
Critic Reviews for All the Right Moves
Audience Reviews for All the Right Moves
½
Not quite powerful, but solid for a film made in the (generally) vapid 1980s.
Christian C
Super Reviewer
½
Bit of a classic Cruise machine this, backed up by a sterling cast including Craig T. Nelson, Lea Thompson and Chris Penn. Its a solid gruff story about a blue collar town that is kept alive by the local steel mill and how all the local kids wanna escape the town and reach for the stars, grimy and emotional? check! I've always found the US school system quite amusing actually and this film really bugs me to tell the truth haha. I'm not sure if its really like this or if it was but football seems to be SO important in US schools, it runs peoples lives and they take it so so seriously that it can make or break their future. This is the plot within this film, football is Cruises live and because he insults the team coach he gets chucked off the team and practically loses his life plans in the process. What is also so odd about it (if its like this I don't know) is the fact the school coach seems to decide wether you can go to a better school or not no matter what grades you have, even though you are going for a football scholarship surely your grades count? bizarre!. So whilst watching I can only feel total confusion and frustration at the US school system hehe I just wanna say to Cruises character, forget football and just do what you wanna do, you have the grades. Besides this its a good film and well acted, Cruise goes over the top as per usual but he clearly shows talent when compared to other guys of his own age. Thompson is beautiful and such a dream as always whilst Nelson is quite unnerving as the hardass coach, he fits those kind of roles so well.
Phil Hubbs
Super Reviewer
Great sports movie/love story!!! Tom Cruise is also so cute in this movie and Lea Thompson is adorable. Also it has a good story too about never giving up. I love it! :) I could watch it over and over. :) :) :)
Cassie Hill
Super Reviewer
All the Right Moves Quotes
There are no approved quotes yet for this movie.