All Dogs Go To Heaven 2
(1996)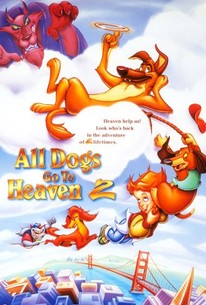 All Dogs Go To Heaven 2 Photos
Movie Info
Mixed-breed sequel to the successful animated musical has dog-angels Charlie and Itchy returning to earth to recapture GabrielÕs trumpet. OK for kids, but adults will be twitching like a Chihuahua on espresso.
Critic Reviews for All Dogs Go To Heaven 2
Audience Reviews for All Dogs Go To Heaven 2
½
"To be honest I was bored to tears watching this movie. It wasn't cute and it wasn't a film I will remember. Nothing in it stood out for me. The kids didn't even care for it. They kept pointing out all the mistakes in the film. For instance, the dog collar that made them un-invisible would be on the dogs in one scene and then gone in another. Just a poorly made film that could have been better if not for the sloppiness. The film tried to give out a good message but it was missed in all the things that were wrong in the film. If there is too much bad, it's hard to focus on the good. Pass on it or see it if you loved the first enough."
♥˩ƳИИ ƜѲѲƉƧ♥
Super Reviewer
Dillon Lupky
Super Reviewer
the only thing that keeps you watching is the villain, he was just so interesting to watch, other than him theres not much else to keep you watching
Michael Edwards
Super Reviewer
All Dogs Go To Heaven 2 Quotes
There are no approved quotes yet for this movie.