Alive Day Memories: Home From Iraq
(2007)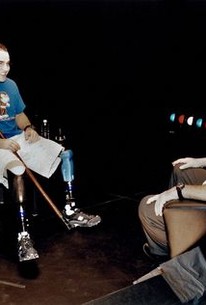 AUDIENCE SCORE
Critic Consensus: No consensus yet.
Alive Day Memories: Home From Iraq Photos
Movie Info
Sopranos star James Gandolfini pulls double duty as executive producer and host of a documentary concerning wounded U.S. veterans of the Iraq War. Originally aired on HBO, Alive Day Memories: Home from Iraq finds ten American GIs detailing their narrow brushes with death on the desert battlefield. The title of the program is derived from a phrase used by the soldiers to indicate the day that they cheated death during combat -- often with horrific, life-altering wounds that left them permanently disabled.
Critic Reviews for Alive Day Memories: Home From Iraq
Audience Reviews for Alive Day Memories: Home From Iraq
James Gandolfini interviews several veterans of the Iraq war, and they discuss their alive day, a day where each soldier nearly died. This day in the military is not a celebration, but mostly a day of reflection. These interviews are captivating, and the story that each soldier recounts is important as they relive these moments. Watching them speak about their near death experience you really get a sense of what it must be like for these soldiers, and you definitely come to appreciate what these men and women have sacrificed during their of duty. Informative, and necessary, Gandolfini uncovers this much needed story from these veterans and brings to light an important subject. I come from a military family, and for me, this is an important, must see documentary that is worth seeing. Throughout the documentary, you get eye opening stories that make you respect these soldiers that much more. I'm always interested in hearing true experiences from veterans, and this documentary, like I've said, is unique because it recounts a near brush with death that each soldier has gone through. For that, it makes for a much more engaging experience, and it's one that you won't forget. The interviews are in depth, and informative and are conducted with great respect to these veterans. This is a great documentary for anyone interested in the effects of war on soldiers and how close they came to dying in service of their country. This is also a perfect tribute to soldiers serving overseas and it's important to appreciate what these men and women have done for us.
Alive Day Memories: Home From Iraq Quotes
There are no approved quotes yet for this movie.