Alila
(2004)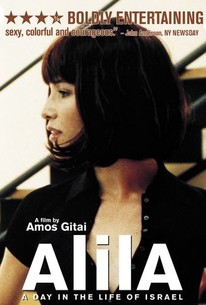 Movie Info
Directed by Amos Gitai, Alila is based on Yehoshua Kenaz's novel Returning Lost Love and chronicles the trials and tribulations of every day life in Tel Aviv. Most of the film revolves around an apartment block on the working-class borders of Tel Aviv, where the trysts of residents Hezi (Amos Lavie) and Gabi (Yael Abecassis) attract their neighbors' attention, as does the unauthorized construction of an additional wing to the building. A neighboring family patriarch, meanwhile, is dealing with legal troubles (he hired illegal Chinese construction workers), the AWOL status of his son, and his wife's affair with a younger man. A Holocaust survivor (Yosef Carmon) and his Filipino housekeeper (Lyn Shiao Zamir) further illustrate the conflict between Jews, Jews of different extractions, and Arabs in the community.
Audience Reviews for Alila
½
[font=Century Gothic][color=royalblue]"Alila" is an Israeli movie set in an apartment building. It features various denizens while focusing on a divorced builder and his son who has gone AWOL from the army and a very anonymous affair. Director Amos Gitai uses exquisite tracking shots and jump cuts to tell his story but Michael Haneke fell flat on his face doing pretty much the same thing with "Code Unknown" in 2001. "Alila" is a slight improvement.(Both "Alila" and "Code Unknown" make mention of illegal immigration.) What this technique allows for is glimpses into the lives of its characters but because that is all we get, there is never a sense that we ever get know any of them, and several remain complete mysteries. There is something here about how neighbors interact with each other but not much. [/color][/font]
Alila Quotes
There are no approved quotes yet for this movie.