Aliens in the Attic
(2009)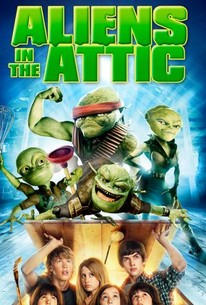 Aliens in the Attic Photos
Movie Info
Kids on a family vacation must fight off an attack by knee-high alien invaders with world-destroying ambitions. At the same time, the youngsters work hard to keep their parents in the dark about the battle upstairs. It all starts as a meteor shower rockets across the dark galaxy. Four glowing pods sparkle and crackle while hiding behind the meteor show. A mysterious force makes the meteor shower turn a hard right towards a bright blue ball in the distance - planet Earth.
News & Interviews for Aliens in the Attic
Critic Reviews for Aliens in the Attic
Audience Reviews for Aliens in the Attic
On a family vacation the kids discover there are aliens who want to take over the world.
Candy Rose
Super Reviewer
A simple, easy to watch film with some good comedy moments that will enthral children, but nothing for the adult viewer.
Sophie Burgess
Super Reviewer
Art Pearson: This isn't Xbox, Lee. It's real! - Like Wii!  "They came from upstairs."  Just a piss poor attempt at a family sci-fi film. Aliens in the Attic is beyond childish, it is to the point where kids will be making fun of how stupid it is. The whole movie is a bunch of talentless child to teenage actors running around fighting small, poorly imagined aliens, while the parents(who are to stupid to notice the aliens) go about their normal lives.  A family goes away for a summer vacation. While there, the kids discover that some midget aliens are arriving and looking for something buried under the house. The kids must stop them all by themselves because the aliens have technology that only works on adults. The film doesn't sound as bad as it is. In actuality, it is a pretty boring and lifeless movie when it comes to these types of stories. Then there's all the horrible, cliche one liners and obvious plot choices that just make the movie repetitive and uninspired. Bad effects and bad acting just add to the misery of sitting through this godawful attempt at family fun. If you are looking for a film to watch with the entire family, look elsewhere because this will be pure torture for anyone over the age of 8.
Melvin White
Super Reviewer
Aliens in the Attic Quotes
There are no approved quotes yet for this movie.