Alien Trespass
(2009)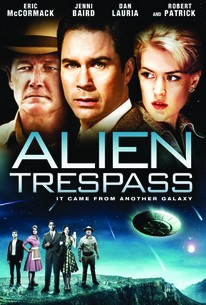 TOMATOMETER
AUDIENCE SCORE
Critic Consensus: An earnest attempt to parody campy 1950s sci-fi films, Alien Trespass eventually loses its charm among tedious dialogue and cheesy special effects.
Movie Info
Set in 1957, "Alien Trespass" chronicles a fiery object from outer space that crashes into a mountaintop in the California desert, bringing the threat of disaster to Earth. Out of the flying saucer escapes a murderous creature--the Ghota--which is bent on destroying all life forms on the planet. A benevolent alien from the spaceship, Urp, inhabits the body of Ted Lewis--a local astronomer--and with the help of Tammy, a waitress from the local diner, sets out to save mankind.
News & Interviews for Alien Trespass
Critic Reviews for Alien Trespass
Audience Reviews for Alien Trespass
½
I hoped this would be as good as it promised, finding the idea of a '50's style sci-fi resurrected appealing, but the makers (the director's an X Files alum) flunked because they, in typical modern day detachment, forgot the essential ingredient: to give a damn. No one here does and the hip, modern, cooler-than-thou, winkin-at-you, don't-we-look-fabulous result so ruins the work that I couldn't help but finally agreeing to not giving a damn either. The monster's based on a one off novelty song of the '60's.
Kevin M. Williams
Super Reviewer
½
Well intended but pointless exercise in recreating those wacky sci-fi films from the 50's. There's a few funny moments here and there mostly thanks to a well cast Eric McCormack but unlike Lost Skeleton Of Cadavra this is an homage (sorta like Ti West's House of the Devil) and not a spoof-style comedy.
A.D. Villarreal
Super Reviewer
½
"It came from another galaxy. A creeping, crawling nightmare of terror!" After crash landing near a desert town, an alien enlists the help of a local waitress to re-capture a monster that escaped from the wreckage of his space ship.
REVIEW
I started watching Alien Trespass with some reservations: I'm definitely a fan of the "source material" for this movie, but I haven't really enjoyed many of the handful of retro/homage/pastiche 50s-style genre films I've seen in the past decade. In the early going, if you're inclined to be suspicious of the movie's intent (and I was), you may find some technical details that are sort of jarring: "cheap" CGI substituting for the papier-mâché-string-and-sparklers school of SFX, matte paintings and studio backdrops that somehow don't feel period-authentic (might be that the compositing is too good, even when it's intentionally "bad?"); that sort of thing. However, once I was introduced to the excellent and very likable cast, and allowed myself to settle into the rhythm of the dialogue, none of that mattered. There's a gentleness in the style and humour that just felt right to me. Of course "right" is completely subjective, and all but useless in determining if you will like the movie; I'll say instead that if you're not in a technical-nitpicking frame of mind (or if you are, but you're willing and able to get past that), it's a very easy movie to enjoy, especially if you're relaxing with it on a lazy Sunday afternoon. There's a lot of sharp, caustic humour to be found on TV and in movies these days, and that's not a criticism - I guess I enjoy ironic detachment, sarcasm, and "snark" as much as the next guy - but if you come to this movie expecting that kind of experience, I think you're going to be disappointed. If, on the other hand, you genuinely like the source material, and you're willing to enjoy something pretty much on its own terms, without the broad safety net of winking self-awareness that most "retro" films seem to employ, then I think you'll have a good time with Alien Trespass.
Lorenzo von Matterhorn
Super Reviewer
Alien Trespass Quotes
There are no approved quotes yet for this movie.