Alfie
(2004)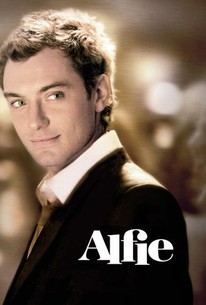 TOMATOMETER
AUDIENCE SCORE
Critic Consensus: This unnecessary remake wants Alfie to have his cake and eat it, too, but a lack of sexual fizz and a sour performance by Jude Law conspire to deliver audiences a romantic comedy that isn't romantic or funny.
Movie Info
Alfie Elkins is a philosophical womanizer who is forced to question his seemingly carefree existence. Ultimately, his freewheeling lifestyle begins to slowly unravel.
News & Interviews for Alfie
Audience Reviews for Alfie
Having seen both the original Alfie from 1966 and the remake from 2004, I think I have a pretty clear view of things instead of wondering what's it all about? First of all, Jude Law is terrific in the movie and gives a fantastic performance, despite the detractors. Second, I found the film incredibly personal and very moving at times, just like I did with the original. Third, the film's style was very engaging and kept things interesting visually, as well as moved the story along at a brisk pace. The problem that I have with it, and the same goes for the original, is that Alfie really is the star of the show and the supporting actors really don't have that much to do. The only person who really gets to shine is Sienna Miller, and even then it's very brief. Don't get me wrong though. This isn't something I'd watch over and over again. It's not an enjoyable sort of movie as much as it is a bit of a character study, one who's character you don't like all that much for the duration of the film (I kind of like that). I also think the comedy bits could be improved as there doesn't seem to be much there to play with. It's more of a character drama than anything, but it also tries to be a light-hearted comedy at times, and the two seem to clash at times aesthetically. I still enjoyed the movie and was magnetized by Jude Law's performance. I can't compare it to the original, because the remake is so much more modernized and stylistic in comparison, but for what it is it's worth a look or two.
Tim Salmons
Super Reviewer
It's could be charming, but after see the original Alfie (1966), this remake is a complete trash and silly.
Lucas Martins
Super Reviewer
½
Cast: Jude Law, Marisa Tomei, Omar Epps, Nia Long, Jane Krakowski, Sienna Miller, Susan Sarandon, Graydon Carter, Renée Taylor Director: Charles Shyer Summary: Jude Law reprises a role made famous by Michael Caine (who got an Oscar nod for his portrayal in the 1966 film of the same name) in Charles Shyer's stylish remake, which takes a decidedly different tone than the original. Self-aware British cad Alfie (Law) falls in lust too easily and can't commit to one woman in all of Manhattan. But when one of his lovers gets pregnant, Alfie begins to question his existence. My Thoughts: "I thought it was going to be your normal player film with a conceited gentleman looking for one booty call after another. But surprisingly it had more depth then that. The story was interesting, watching this 'player' being taught a very good lesson. I liked Jude Law in this role. Great cameo's from talented actresses in this as well. As a woman you want to dislike him, but even as a veiwer, his charm wins you over. In the end you feel a bit sorry for the guy. It's a well acted film, give it a look if you haven't."
♥˩ƳИИ ƜѲѲƉƧ♥
Super Reviewer
Alfie Quotes
There are no approved quotes yet for this movie.