Alex Cross
(2012)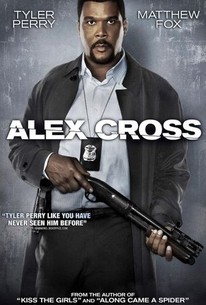 TOMATOMETER
AUDIENCE SCORE
Critic Consensus: Tyler Perry and Matthew Fox do their best, but they're trampled by Rob Cohen's frustrating direction and a tasteless, lazily written screenplay.
Movie Info
Alex Cross follows the young homicide detective/psychologist (Tyler Perry), from the worldwide best-selling novels by James Patterson, as he meets his match in a serial killer (Matthew Fox). The two face off in a high-stakes game of cat and mouse, but when the mission gets personal, Cross is pushed to the edge of his moral and psychological limits in this taut and exciting action thriller. -- (C) Lionsgate
News & Interviews for Alex Cross
Critic Reviews for Alex Cross
Audience Reviews for Alex Cross
"Alex Cross should have stayed in the books. Well, at least this time around. I've seen the other movies (Kiss the Girls being a fav). The movie felt like a made for T.V. flick. I thought Matthew Fox did a pretty good job at playing crazy. Freaked me out a little. But the acting wasn't very good by him or Burns. But what really through me off the movie was Tyler Perry. He just did not belong in this role. His performance was bland and boring. I thought it would be interesting seeing him in an action role, and it was, but it wasn't very good. Rob Cohen could have done a better job here too. It's not something I would want to see again."
♥˩ƳИИ ƜѲѲƉƧ♥
Super Reviewer
As a fan of the original Alex Cross movies (Kiss the Girls & Along Came a Spider) I was both excited and hesitant for this new incarnation. It got terrible reviews and left the theater very quickly before I could see it. After taking it in on DVD I must say that it isn't at all as bad as people said it was. I thought Tyler Perry did a great job in the role and the story was compelling. I even liked Mathew Fox as the villain. It's not the greatest movie ever but it's one I would easily watch again and will buy to add to the collection.
Jason Spencer
Super Reviewer
½
Tyler Perry equips himself admirably to the action hero role, but he is drowned out by the implausible plot, mediocre dialogue, and rushed pace. There's some decent action in this film, but the finale is probably the worst part. Alex Cross' descent into a cop on the edge is not believable, mainly because of everything being so rushed and implausible leading up to the finale. This is one of those films that ends with a 1 on 1 fight that is lackluster and feels out of place completely. This film definitely doesn't try to do anything new and it does almost nothing better than mediocre. Matthew Fox's overacts as the villain, Edward Burns felt miscast as the buddy cop, and all of the females in the film get the axe by half way point. There's times when this film comes across as tasteless. On the other hand, it can be reasonably entertaining. There was considerable news about whether Tyler Perry could handle this role or if he would ruin the movie, but the opposite ended up happening: the movie ruined it for Tyler Perry. It's not terrible, but Alex Cross will probably be the nail in the coffin for the James Patterson series for quite some time (or possibly for good).
Josh Lewis
Super Reviewer
Alex Cross Quotes
There are no approved quotes yet for this movie.