Albino Alligator
(1996)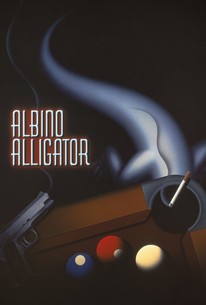 Movie Info
Dino's Last Chance Bar is a typical, sleepy New Orleans basement dive until the one early morning when three desperate robbers fleeing from a botched caper come storming in. When government agents and a SWAT team surround the place, the crooks and the cops find themselves at a stalemate.
Critic Reviews for Albino Alligator
Audience Reviews for Albino Alligator
Law: Albo gator... sacrifice for a gain.  "Deliberate sacrifice for deliberate gain." Everything about Albino Alligator seemed intriguing on paper. It's got a formidable cast with Dillon, Sinise, Fichtner, and Dunaway. It has Kevin Spacey as the director, and despite having a story that's been done a million times, the story always seems like a good idea. So I was sort of surprised to see such distain across the board for the film. Still, everything was too intriguing to pass up, and I'm happy that I at least gave the movie a shot because in the end, I didn't hate it. Now Albino Alligator is nothing special. I just want to get that out there right now. If you never see it, it wouldn't be a big deal. The story is something you've seen before and will see again. It is the international robbery story, where a group of criminals robbery is botched and they are left cornered with hostages, and the police outside. So how are they going to get away? That's the whole movie. The criminals are cornered in a basement bar, and must come up with a way to get out of there with their freedom and with their lives. To me, it isn't surprising at all the Spacey directed this. Look at a lot of films that he has starred in. In many of them, there's a lot of dialogue and free range among the actors. So it isn't surprising at all, that this film is mostly dialogue, where the actors are given a lot of free reign. The only problem with that is that the actors aren't on top form. I like Fichtner and Sinise, but neither was that good. I did enjoy Dillon's performance though. I think he did a pretty good job overall. The sad thing comes in that Albino Alligator should have been better. It's too predictable to be considered better than average. You can see the plot development with Mortensen's character coming the moment you lay eyes on him. As for the actual outcome, I liked the idea, but not so much the execution.  So this is a slightly disappointing movie just because of all the talent that is involved and because it could have been so much more. But I got a certain amount of enjoyment out of it. While it may not be exceptional filmmaking, it's interesting filmmaking, and sometimes interesting is all you need.
Melvin White
Super Reviewer
Pleasant surprise. I'd never heard of this one, but the catchy title caught my eye, so I watched it and was soon recommending it to others, whom also liked it in return. "Albino Alligator" is a movie about three thieves that take a few people at a New Orleans bar hostage. The criminals don't really mean any of the hostages any harm, at least not until the police start to wait right outside the bar and the three criminals don't know what to do to get out with freedom still on their side. "Albino Alligator" is a pretty good movie, especially when you consider that it was the first movie that Kevin Spacey directed. It's not the best movie of its kind, but it's not bad either. It all happens inside a bar in the basement of a building and the plot doesn't change much the whole movie, but it does have a few interesting twists that keep the movie from being boring. All three of the criminals do a great job in the acting department, especially Matt Dillon. The hostages, led by Faye Dunaway, also do a good job of acting. This movie is both chilling and entertaining, and I recommend anybody who likes movies that center around criminals and hostages to get "Albino Alligator." NOTE: That was my Amazon review from the year 2001.
Jason Owens
Super Reviewer
Its a good movie and watchable obviously a low budget film which i surprising because of the cost but its good funny and not to bad of a storyline!
Film Crazy
Super Reviewer
Albino Alligator Quotes
There are no approved quotes yet for this movie.