Alatriste
(2006)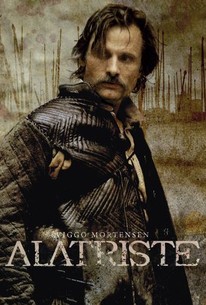 Movie Info
Set during the 16th century war in Flanders, the tale of a rogue mercenary and his adventures.
Critic Reviews for Alatriste
Audience Reviews for Alatriste
Viggo Mortensen is of course the perfect choice for the battle-hardened Captain who has to fight fellow musketeers and court intrigues. The action is much like the film itself: realistic, unspectacular, grounded, and blunt. Sadly, the pacing is off several times, some of the parts of the film feel very episodic. The flow suffers from that and makes the film feel much longer than it already is. Which is too bad, because there are moments of brilliance. Several scenes even look like old period paintings. Unfortunately, that's not enough to entertain.
½
This Spanish period piece is beautifully shot, well cast and well acted. The sword play is possibly the most realistic ever to be seen on film emphasising the brutality and pragmatism of its life or death nature and paying no homage to the sport of fencing that has developed since and usually influences such movies. The suffocating political, class and religious undertow of those times is thematic and frames the protagonist's efforts to exist with dignity in the most difficult of circumstances. Don't be put off by the subtitles if you don't speak Spanish - it's an excellent picture.
The Shrewlord
Super Reviewer
Alatriste Quotes
There are no approved quotes yet for this movie.