Airplane 2 - The Sequel
(1982)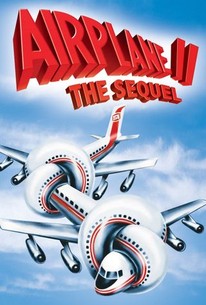 Airplane 2 - The Sequel Photos
Movie Info
With the Jerry Zucker-Jim Abrahams-David Zucker team absent, this sequel to the cash-cow 1980 spoof Airplane once again finds garrulous man-with-a-past Ted Striker (Robert Hays) compelled to take over the controls of crippled aircraft, all the while trying to patch up his relationship with stewardess Elaine (Julie Hagerty). This time, the first passenger space shuttle is launched into orbit -- and takes off for the moon - but the on-board computer malfunctions and sends the craft hurtling toward the sun, threatening the lives of everyone on board. Lloyd Bridges and Peter Graves return from the first Airplane, while William Shatner, Chad Everett, Sonny Bono, Raymond Burr and Chuck Conners join the cast, as they too lampoon their established images. ~ Hal Erickson, Rovi
Critic Reviews for Airplane 2 - The Sequel
Audience Reviews for Airplane 2 - The Sequel
Just when you thought it safe to go back into the departure lounge. At this point, we would like to say we HAVE NOTHING TO DO WITH the Sequel -Zucker/Abrahams
A hilariuos sequel to Airplane!, but in a way it's sort of a spoof of the first movie too, which is kind of weird. This one has more stars in it though. If you liked the first one, you like this one too, it's very funny.
Having said that however, I don't think this film is as bad as some other reviewers have stated. Sure they re-hash a lot of stuff from the first movie, but hey! It's still funny right? I think this movie has a lot going for it. Some of the jokes fall flat, but some are hilarious. You've just got to take the rough with the smooth.
Cassandra Maples
Super Reviewer
Airplane 2 - The Sequel Quotes
There are no approved quotes yet for this movie.