Afternoon Delight
(2013)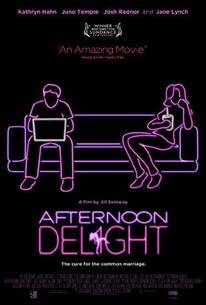 TOMATOMETER
AUDIENCE SCORE
Critic Consensus: Afternoon Delight's uncertain tone is entertainingly offset by smart dialogue and standout starring work from Kathryn Hahn.
Movie Info
AFTERNOON DELIGHT is the story of Rachel, a stay-at-home mom who becomes obsessed with saving a stripper named McKenna. It's nine am. You've just dropped your kid off at school. Pick-up is at four. No one knows where you are, and no one needs you. So what now? Rachel is a quick-witted and lovable, yet tightly coiled, thirty-something steeped in the creative class of Los Angeles's bohemian, affluent Silver Lake neighborhood. Everything looks just right-chic modernist home, successful husband, adorable child and hipster wardrobe. But when she visits a strip club to spice up her marriage and gets a private dance from McKenna, something cracks open. Rachel returns to the scene of the dance to get to know McKenna, and soon after, adopt her as a live-in nanny. This bold move unleashes unimagined and colorful waves of change into Rachel's life, marriage and community. (c) FilmArcade
News & Interviews for Afternoon Delight
Critic Reviews for Afternoon Delight
Audience Reviews for Afternoon Delight
Wasn't as good as I hoped, but still not bad movie. I actually thought it would hit the fan way worse than it did! Interesting idea for a movie dealing with a marriage gone stale and the fascination caused by a young striper met in a vain attempt to spice things up. Clearly moving her into the house was never going to end up well for anyone! I did like how it blurs a little who is actually at fault. Juno Temple is great, I am liking nearly everything I see her in. Maybe my expectations for this were a little higher based on that, but still worth a look.
Nicki Marie
Super Reviewer
Kathryn Hahn and June Temple's performances are the best reasons to watch this film. They shine here. They have a great on screen chemistry. It is great seeing Hahn play a leading role in a film. The film did surprise me. I thought it was well written and has some great dialog. I thought there was some solid supporting work by Jane Lynch, Jessica St. Clair, and Michaela Watkins. The weak link in my opinion was Josh Radnor. I didn't think he had a good chemistry with Hahn. I think another actor in that role would have done a better job. I keep thinking someone like Jason Bateman or Zach Braff would have done better. I still recommend this film, especially cause of June Temple and Kathryn Hahn's performances.
The cure for the common marriage. Good Film! Afternoon Delight plays a bit like a Judd Apatow flick, from a female perspective. This is a perfect example of a movie that is not done justice by its trailer. If you watch it you will expect a raunchy sex comedy. What this is a very personal and sometimes depressing movie about how a women goes to drastic measures to change her life. This is a true dark dramedy about what a woman will do when she feels trapped. Overall, this is the definition of the saying "be careful what you wish for." A real surprise that I really liked and recommend. Rachel is a quick-witted and lovable stay-at-home mom. Frustrated with the realities of preschool auctions, a lackluster sex life and career that's gone kaput, Rachel visits a strip club to spice up her marriage and meets McKenna, a stripper she adopts as her live-in nanny.
Afternoon Delight Quotes
There are no approved quotes yet for this movie.