Afghan Star
(2009)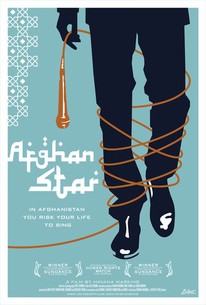 Movie Info
After 30 years of war and Taliban rule, "Pop Idol" has come to television in Afghanistan. Here, we follow four contestants as they risk their lives to sing in competition.
News & Interviews for Afghan Star
Critic Reviews for Afghan Star
Audience Reviews for Afghan Star
Far better than the original American or Pop Idol, Afghan Star depicts people erupting after having their collective expressions put under the boot of the Taliban. The idols are unique and terribly fun to watch.
John Ballantine
Super Reviewer
As televisions make a return to Afghanistan after the fall of the Taliban, so too should remote controls that can change the channel, so those easily offended can watch something else and mind their business, especially as it concerns the musical competition, Afghan Star, where the winner gets $5,000. "Afghan Star" follows four of the finalists, Hameed, Rafi, Lima and Setara, who is also the most outspoken of the group, on and off stage to get a sense of how the contest is affecting their own lives and any resistance they face. Now, a singing competition might on the surface seem like a strange place to explore the changing state of freedoms in the country, but with any nation emerging from a repressive state, there has to be a first step(in this case, it is a dance step). In other times and places, it has been artists like Elvis Presley and Pedro Almodovar that led the charge. So, while I agree with this moderately entertaining and insightful documentary that this television show where men and women occupy the same stage can lead to inspiring greater freedom, other conclusions concerning democracy and unity I am less sure of. While the contestants do run political style campaigns, this really should not be confused with the ballot box. Also, I bet that each ethnic group votes for their own primarily.
Interesting to see how a knock off of a western television show is made in a country with such strict laws regarding music, dance and even television in general make everything more difficult. What I enjoyed seeing most was how some people live with the fear instead of backing down on their "progressive" ideas. Americans need to be reminded how lucky we are and even what we are fighting for when we try to expand democracy. They feel voting for a singer is exercising democracy, but also live with fear they can lose their favorite new tv show at the same time.
Thomas Johnston
Super Reviewer
Afghan Star Quotes
There are no approved quotes yet for this movie.