Affliction
(1997)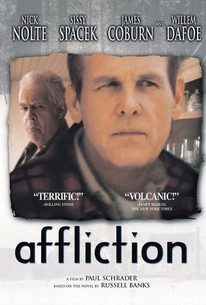 TOMATOMETER
AUDIENCE SCORE
Critic Consensus: Dark and bleak, the "kick-ass" performances, especially Nolte's "effective" portrayal of an abused soul, is the reason to see this film.
Movie Info
Wade is a police officer in the country and his divorce seldom permits him to spend time with his daughter of whom his ex-wife has custody. He is in love with a fantastic woman with whom he lives. Wade wants to have a family, but a strange accident will change his life forever.
Critic Reviews for Affliction
Audience Reviews for Affliction
The plot sounded interesting and it did begin rightly so. However, it failed to maintain that level of interest as it congresses. The story is messed up & lacks thrill. If only critical acclaims could make up for a disappointing experience!!! On the greener side, it's much better than some recent experiences. Good if it works for you. Give it a go.
familiar stranger
Super Reviewer
When you dig into Affliction you feel like you're getting into a low rent Fargo. A man accidentally dies on a hunting expedition and bumpkin cop Wade Whitehouse (Nick Nolte) soon suspects foul play involving his friend, his boss, and the dead mans son in law. Affliction is much more than that. The crime is just the MacGuffin to lead us to the real meat of the film which is Wade's downward spiral. Wade is divorced and his daughter will have nothing to do with him. He tries hard to have a relationship, sometimes too hard, but the spirit of his father is still etched into him and continues to carve away little pieces of his life. Wade's father Glen (James Coburn in an Oscar winning role) is your typical drunk and abusive father. You've seen it in several other movies. It's Coburn that makes the character more than that. His drunk isn't loud and brash all the time. He simmers. He knows what to say to get a rise. He's evil, yet he's the patriarch. Along with Nolte and Coburn you have Sissy Spacek as Wade's fiance and Willem Dafoe playing the other, more down to earth son who's almost too down to earth. he narrates the tale. It's a great cast of talented actors. Paul Schrader, best known for writing Scorsese's classic films Taxi driver, raging Bull, and The Last Temptation of Christ directs and adapts the novel by Russell Banks. When you get right down to it Wade Whithouse could be Travis Bickle if he stayed at home and got small municipal jobs in his podunk hometown. Schrader isn't crazy with the camera, but he's still able to show that even though they hate each other father and son still hold a bond between one another. This film is probably Schrader's best work as a director. Affliction could have easily been a Lifetime movie, but Scharader and his cast of actor turn it into a tour de force that represents the best of their talents. A little dull at a few points it is still a fine film and necessary when seeing how to cap off a great career.
Chris Garman
Super Reviewer
A very mediocre thriller made infinitely stronger by the inclusion of some really well-written themes and mindblowing performances. Affliction is a thesis on how competent acting and directing can easily overcome a subpar premise. The mystery that Nick Nolte spends most of the movie chasing after is anemic, meandering and poorly-developed; it's his past, his present and his future that make the movie far more interesting. The movie is his, with his father standing behind him like some sick puppet master ruling over all the events. James Coburn, looking like an evil frog, gives a downright chilling performance here. Coburn can immediately suspend the audience's disbelief, covering up the uninvolving plot and sucking you right back into the personal drama that these characters create. It is he who defines the entire movie, especially the explosive final fifteen minutes.
Drew Smith
Super Reviewer
Affliction Quotes
There are no approved quotes yet for this movie.