Adventures of Power
(2009)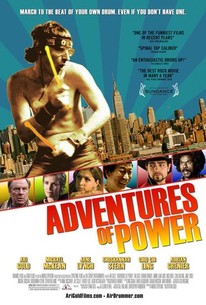 Adventures of Power Photos
Movie Info
A twentysomething misfit dedicates his life to giving the drummer some, even when the drums are only imaginary, in this comedy written and directed by comic Ari Gold. Power (Gold) grew up in a small mining town in New Mexico, where his father (Michael McKean) always imagined his son would one day join him in digging copper from the earth. But Power has a dream of playing the drums, and since he doesn't have a drum kit, he's become a master of "air drums," flailing his arms in the manner of Neil Peart or Keith Moon against a huge but nonexistent set of traps. Power's desire to become the world's greatest air drummer doesn't earn him much respect at home, so he travels to Mexico, where he learns of an air-drumming competition in Newark, NJ. Power hits the road for the garden state and meets Carlos (Steven Williams), a master air drummer who becomes his guide in the art of not really playing. Power also gets some much-needed encouragement from Annie (Shoshannah Stern), a sweet born-again girl living upstairs from him. But when Power learns that his father back home is leading a strike to save jobs for the employees at the local copper mine, winning the title becomes a matter of defending the honor of his family and his hometown, and he dedicates himself to defeating arrogant country music star Dallas Houston (Adrien Grenier), who is favored to win. Adventures of Power also stars Jane Lynch, Travis Johns, and Jimmy Jean-Louis. ~ Mark Deming, Rovi
News & Interviews for Adventures of Power
Critic Reviews for Adventures of Power
Audience Reviews for Adventures of Power
Well, this sure was silly...but I did find it kind of funny at times. Think of Spinal Tap meets Napolean Dynomite. Adrian Grenier is in this, too, which probably kept me from reaching for that eject button. eh. It had its moments. My teenage daughter sure got a kick out of it, though. Guess that tells ya sumpin..
Cynthia S.
Super Reviewer
½
Adventures of Power In Adventures of Power our protagonist, Power, teeters between silly Napoleo Dynamite-like impersonation and seriously comedic acting--the kind seen in a Wes Anderson project. The effect of it all is that the film is, at once, fun and funny but, on the other hand, thoughtful and sweet. It marries the two worlds of silliness and poignancy effortlessly. Taking place in a small industrial town, the film centers around a lovable, albeit slovenly, loser with a heart of gold who refuses to grow up. His one and only goal, obsession and purpose in life is to play the drums. If you find that to be disheartening, here's the kicker: it's air drums! While the world is his cymbal, that instrument is rejecting his stick with a loud screech. Power is misunderstood and ignored by most of the people who surround him in his Texas hometown. After some exploratory roughing-up in a Mexican border town, he realizes his true calling is on the opposite end of the country--in glorious New Jersey. If the premise sounds like a gimmick, it is. There's nothing that Power won't do or any length he won't go to in order to show the world what he's made of. Adrien Grenier (of "Entourage" fame) makes a fun appearance as Power's boyhood nemesis who secretly shares Power passion for air-drumming despite his rich tycoon father having bought him his way into his very own "legitimate" Country-Emo band--where he plays the real drums. In the end, both men are forced to face off in a battle of the air drums on an implausibly televised national competiton. By that time, Power has united with a rag-tag set of misfit "drummers" and become friends with them; he's found a girl who sees him as more than just a pathetic loser and hear's his heart beat in more ways than one. Despite all this hokeyness and unabashed fluff, the movie ends up feeling like a triumph in a tongue-in-cheek sort of way. It is unashamed of its sentimentality and never takes itself too seriously.
Rico Zamora
Super Reviewer
Adventures of Power Quotes
There are no approved quotes yet for this movie.