Advantageous
(2015)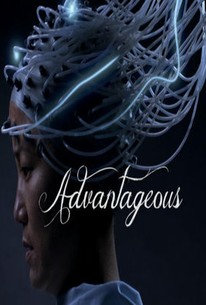 TOMATOMETER
AUDIENCE SCORE
Critic Consensus: Advantageous transcends obvious budgetary limitations to pose thought-provoking questions about gender roles and family dynamics.
Movie Info
In a near-future city where soaring opulence overshadows economic hardship, Gwen and her daughter, Jules, do all they can to hold on to their joy, despite the instability surfacing in their world.
News & Interviews for Advantageous
Critic Reviews for Advantageous
Audience Reviews for Advantageous
In its first hour, it tries too hard to be emotional instead of just focusing on its ideas, but the film suffers mostly from an ill-thought-out third act that, despite an intriguing revelation that should have come much before, feels only forced, clichéd and is filled with cheesy dialogue.
Carlos Magalhães
Super Reviewer
½
It's more than obvious that this film has a minuscule budget, that's not even in doubt. You'd think that this would be more important in a futuristic sci-fi film, such as this one, but nope, you'd be wrong. Granted there's some use of special effects and CGi, but it's minimal. Only showing a more futuristic version of the city for certain shots, the drones that spy on everyone's conversations and the video calls between people. The film is set in, what seems to be, both an utopia and dystopia. Everything is, seemingly, perfect until you realize that the people in this city have absolutely no privacy and women, much like they've been treated throughout mankind, are only judged by their looks and their age. They're also being forced out of the workplace once they reach a certain age and most of them are unable to have children. Essentially, for women, in this world, you have to pretty much make sure you're part of the elite at a certain stage or else there will be nothing you can do to bust through the glass ceiling, so to speak. And that's what this film is about, in part, the struggle that women face in this world. Of course, it's an exaggerated version of it, but there's themes that are more relevant to the world we live in that a movie without the sci-fi elements. It's also in part about a desperate mother's search for a job that will help secure her daughter's standing in life, giving her a better life, and future, than she ever had. So the film covers some pretty universal themes, but it's done in a very thoughtful and intelligent manner. The film isn't even, really, about the sci-fi elements as much as it is about the characters and how the world they live in has affected their own lives. I think this film captures that desperation of what a parent would do for the betterment of the child's life, getting them a better future. Essentially, Gwen is the head of the Center of Advanced Health and Living, who's pushing this experimental procedure where they take your consciousness and transplant it into a new body. Gwen is fired because she's believed to be too old to be able to help promote this medical procedure, as they want someone who's younger and who could appeal to a wider variety of people. Gwen, desperate for money, even going to her family, whom she's been estranged for for years, decides to volunteer herself as the test subject for this procedure, even though it brings about some pretty big consequences. That's where I'll stop, because anything else would be spoiling it, but I'm sure you know where it's heading. They withhold a certain bit of key information, during a conversation between Gwen and Fisher. Information that is revealed much later in the film and one that completely changes how you viewed the film and how you viewed Gwen's actions prior to her conversation with Fisher when she finally agreed to become the first test subject. As I mentioned, it completely changes how you view Gwen and her dedication to her daughter when she knew what was gonna happen to her once this procedure was performed. It works on a number of different levels, I just think that it really resonates emotionally. And I wasn't even expecting it to. The acting is really damn good, pretty much all around, the cast is top-notch. I've no idea who Jacqueline Kim is, she played Gwen, but she's an excellent actress. She pretty much carries the film and does a great job at it. And Samantha Kim, who plays her daughter Jules, also does a great job at it. There's a certain chemistry between the two that makes it believable to buy the two as mother and daughter, even though they're not related. There's just something about the way they interact with each other that adds some reality to their relationship. I think the film has a real bittersweet and poignant third act and it's sad how the family finally comes together after Gwen's procedure, particularly with the consequences of her actions. This is a really damn good movie, honestly. It might not be everyone's cup of tea, and I'm certain that it won't be, but this was a real strong movie on almost every level. I'd recommend it, but I can see how some people wouldn't like it. That doesn't matter to me though, I really liked this.
Jesse Ortega
Super Reviewer
Advantageous Quotes
There are no approved quotes yet for this movie.