Adam's Apples
(2007)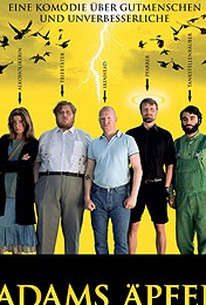 TOMATOMETER
AUDIENCE SCORE
Critic Consensus: Good and evil collide with interesting results in Adam's Apples, a dark Biblical allegory that's alternatively funny and shocking.
Movie Info
An overly-optimistic preacher with a penchant for taking in lost causes to help around his remote church finds his rose-tinted view of the world challenged by a psychotic neo-Nazi he is trying to reform in this jet black comedy from Green Butchers screenwriter/director Anders Thomas Jensen. Vicar Ivan (Mads Mikkelsen) prides himself on his efforts to help those in need by offering them a variety of odd jobs around the church and spreading the good word. After "adopting" a violent Saudi immigrant and a drunken tennis pro with a history of sexual assault, Ivan is approached by Adam (Ulrich Thomsen) -- a decidedly non-reformed neo-Nazi planning to lie low in the countryside for a spell before returning to the city to once again wreak havoc. When Ivan inquires as to what his new charge's goal will be during his stay in the countryside, the snide hooligan sarcastically states that he would like to bake a cake -- a response which prompts the gullible Ivan to place him in charge of the church's cherished apple tree. As ravens immediately descend upon the tree, Ivan concludes that Satan is attempting to prevent Adam from realizing his true potential. Meanwhile, Adam takes it upon himself to give the cheery clergyman a crash course in the harsh realities of life.
News & Interviews for Adam's Apples
Critic Reviews for Adam's Apples
Audience Reviews for Adam's Apples
"Let's stop with the accusations. It was an old cat. He just happened to fall down while we were shooting." There are dark comedies. There are pitch black comedies. And then, there's Adam's Apples. If you want to watch a movie that takes some of the most depressing, horrible things you can think of, and makes them absolutely hilarious, this is the movie for you. I won't spoil much of the story, as watching what unexpectedly happens throughout is one of the pleasures of the movie. It begins with a priest named Ivan driving an unrepentant neo-Nazi named Adam from prison to the church where he will be performing his community service. Ivan gives Adam the choice of one goal to set for himself to complete, before he leaves. Ivan, completely uncaring, chooses to make an apple pie from the apple tree outside the church, once they are ripe. From there, things quickly get out of hand. Let's just say that the sensitive need not apply. I recommend Adam's Apples to people with a dark sense of humor, who are fine with laughing at incredibly inappropriate (yet incredibly amusing) things. This movie was made for people like you and me. I'm not referring to low-brow humor. This is a different animal. An utterly unique (as far as my experience goes), intelligent comedy that ultimately brings sunshine forth from some of the darkest clouds you've ever seen (both figuratively and literally).
On the one hand we criticize films for conforming or being unimaginative, but when something totally original comes along we're not quite sure how to take it. Such is the case with Adam's Apples. I had to watch it twice. First to be repulsed by it's violence and cynicism, then once again to be open to it's dark humor and wonderful bizarreness. Freakishly delightful.
Randy Tippy
Super Reviewer
½
[font=Century Gothic]In "Adam's Apples," Adam(Ulrich Thomsen), a neo-Nazi, has just been released from prison into the care of Ivan(Mads Mikkelsen), a reverend who runs a halfway house for released convicts. So good is he at his job that two of his former charges, Gunnar(Nicolas Bro) and Khalid(Ali Kazim), have stuck around long after their terms were over to help out around the church. As far as Adam goes, Ivan asks him what goal he would like to aim for. To which, he replies that he would like to be able to bake an apple pie in a few months. So Ivan puts him in charge of taking care of the apple trees on the property. The local crows of course have different ideas...[/font] [font=Century Gothic][/font] [font=Century Gothic]The bad news about "Adam's Apples" is that five minutes in I knew exactly how the movie was going to end. The good news is that it is so delightfully warped that hardly any other part was predictable at all. In general, the movie fails to keep to any preconceived ideas as to who these characters might be, especially Ivan. In this fable about sanity and faith, what is important for Ivan is the final destination, not necessarily the route taken.[/font]
Adam's Apples Quotes
There are no approved quotes yet for this movie.