Adam Resurrected
(2008)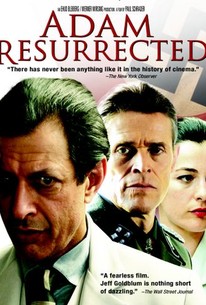 TOMATOMETER
AUDIENCE SCORE
Critic Consensus: Such an unusual tale might have made for a compelling drama, but Adam Resurrected suffers from narrative confusion and an emotional detachment at its core.
Movie Info
Author Yoram Kaniuk's celebrated 1971 novel concerning a charismatic yet questionably sane Holocaust survivor comes to the screen in this dark drama starring Jeff Goldblum, Willem Dafoe, and Derek Jacobi. In the years before World War II, Adam Stein (Goldblum) was a Berlin entertainer who thrilled audiences with extravagant circus acts and spectacular magic tricks. Later, when Hitler took power and Europe was plunged into chaos, Stein and his family were locked away in a concentration camp presided over by the sadistic Commandant Klein (Dafoe). The only reason Stein survived those dreadful years was because he managed to become the commandant's personal "dog," entertaining his captors even as his wife and daughter are marched off to die. Flash-forward to 1961, when Stein is a patient at an Israeli mental hospital for Holocaust survivors. Seemingly able to read minds, Stein confounds head doctor Nathan Gross (Jacobi) with the question "Who brought a dog in here?" Despite Gross' vehement denial that any such animal is on the premises, Stein soon tracks the scent to a young boy who has spent his entire youth locked in a basement and chained to a wall. Over time, Stein and the boy see in each other something undeniably familiar, and the two kindred spirits set out on a remarkable journey together. ~ Jason Buchanan, Rovi
Critic Reviews for Adam Resurrected
Audience Reviews for Adam Resurrected
Adam Resurrected is, without question, the strangest Holocaust themed film I have seen, and likely will see. Based on a novel, the film follows Adam Stein, a magician that acted as a sort of clown/pet for a concentration camp commander. The film finds him in and out of bouts of insanity, followed by manic outbursts of what some considered to be brilliance. What makes Adam Resurrected so strange is the tone. The film is simply all-over-the map. At times, it seems to be going for surreal and whimsical, other times it goes for serious and profound. None of this is ever achieved, as the film has no real dramatic anchoring. There are scenes that are seemingly inexplicable, dialogue that is both hard to understand and verbose. The tone shifts are so drastic, one can hardly take the film in. It's all too manic and kinetic in its approach. Schrader simply comes across as earnest, certainly, but helplessly bogged down in the film's own supposed cleverness, with no real sense of organic story-telling. The lone bright spot with Adam Resurrected is Jeff Goldblum, who has a truly great performance. The problem, however, is that his character is simply awash in a film that is otherwise dramatically adrift, and devoid of focus. 2/5 Stars
Jeffrey Meyers
Super Reviewer
½
Probably intended as a brave attempt of countering the horrors of WW2 concentration camps with black humor, this does simply not work on any level. The scenes set in a 1960s sanatorium where the Jewish victims have to cope with their past feel arbitrary, random and leave you entirely confused and uninterested about any of the events. The black and white scenes from the actual concentration camp are slightly better but aren't able to safe this film. Neither does the admittedly decent cast. A movie that celebrates survival by any means could and should have been so much stronger, but this is just dull, preachy and artsy crap that leaves you entirely cold.
"Adam Resurrected" starts in Tel Aviv in 1961 where the men in the white suits with butterfly nets come to take Adam Stein(Jeff Goldblum) away to the Seizling Institute, a rehab facility for Holocaust survivors, after he tries to strangle his landlady(Juliane Kohler). While some may have doubts about whether or not he can be cured, Dr. Gross(Derek Jacobi), the head doctor, disagrees and Gina(Ayelet Zurer), a nurse, thinks he is hot for some odd reason. While there, he remembers being a clown and working with his family in Berlin before World War II, while sensing there is a dog in room 285. Directed by Paul Schrader, "Adam Resurrected" takes an intriguing psychological angle at the Holocaust, showing that the suffering did not end simply with the liberation of the camps. Adam suffers from a type of survivors' guilt, being dehumanized in his own way. That realistic approach is undercut by elements of magic realism and mysticism. Adam develops odd ailments from which he comes back from the dead, causing at least one fellow patient to think he is the messiah. Why not? They are in the desert, after all. Yes, the movie does come full circle but why so sentimental?
Adam Resurrected Quotes
There are no approved quotes yet for this movie.