Act of Violence
(1948)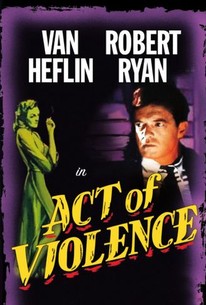 Movie Info
Act Of Violence lives up to its no-fooling-around title with a grim, exciting melodrama. Van Heflin is Frank Enley, a World War II veteran who has survived and been decorated with honors, while nearly all his comrades died in a Nazi prison camp. The one survivor, a crippled, revenge-crazed Robert Ryan, sets out to make Enley pay for the confession that sent his buddies to their deaths. To save his wife (Janet Leigh) from danger, Enley flees, meeting up with a kind-hearted hooker (Mary Astor) and ultimately hiring a hitman to kill his pursuer. The chase builds to a tense climax that does nothing to relieve the dark atmosphere of the rest of the film. With taut performances by Ryan and Heflin emphasizing its classic moral dilemmas, Act Of Violence remains a gripping thriller.
Critic Reviews for Act of Violence
Audience Reviews for Act of Violence
½
A classic, yet underappreciated, film noir that is only marred by its final scene. Nonetheless the ride down the seedy streets and saloons of late 1940s Los Angeles with desperate characters is well worth your time.
Aldo Gandia
Super Reviewer
This may be MGM's best film noir. The movie's title mystifies me; it isn't appropriate or descriptive for this particular film. The title appears generic, yet the violence exists primarily internal to the two leading men. This tense tale of betrayal and obsession gallops along at a torrid pace for all of its 82 minutes, refusing to let go. Van Heflin's character is running from his past, a very noir-ish plotline. Robert Ryan often played the heavy but had the acting chops to take on the hero roles also. His character, Parkland, both physically and psychologically wounded, seemingly insane and bent on revenge at any cost, is ahead of its time cinematically. Neither leading man is who he seems to be in the film's introduction. This is earliest role I've seen from Janet Leigh, maybe best described as "cute as a button" in her crucial role as Heflin's character's wife. Her great acting chops are on display This film shares elements with the outstanding drama Cape Fear, the 1991 Scorsese version more than the original 1962 film. It's on the nature of true guilt and innocence, as well the more obvious betrayal and revenge motives. The contrast between small town-bright lighting and big city-dark, shadowy, moody, for which noir is well-known is critical here. It reminds me, as does the film in a way, of Hitchcock's Shadow of a Doubt. The contrast of opposites between Ryan and Heflin's characters and their transformations during the film is the key to understanding the film's message. Act of Violence's breathless climax neatly wraps up the issues of honor and guilt, but I won't give it all away because you must experience it unadulterated. Suffice to sum it up as the elements of social justice, realism, and suspense are perfectly realized in the B-film noir genre by Fred Zinneman.
Clintus Maximus
Super Reviewer
½
interesting scenario of sympathetic family man van heflin being stalked by a slightly crazed robert ryan for something bad that happened in the war. the ending wraps everything up a little too neatly in classic western style but with good suspense in getting there. mary astor plays an aging hooker at the same time she was playing the saintly mother in little women LOL
Stella Dallas
Super Reviewer
Act of Violence Quotes
There are no approved quotes yet for this movie.