Aces: Iron Eagle III
(1992)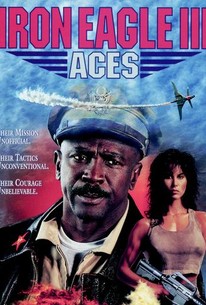 Aces: Iron Eagle III Photos
Movie Info
Chappy Sinclair enlists the aid of a team of wild air show pilots after he discovers that a Peruvian drug lord has set up shop in a small village. The fly boys make off with a fleet of World War II vintage aircraft in an effort to drive the drug dealers out of business, but they come up against a former Air Force comrade of Sinclair's, who is part of the illegal operation.
Critic Reviews for Aces: Iron Eagle III
All Critics (7) | Top Critics (1) | Fresh (1) | Rotten (6)
John Glen manages to overcome the shoddy production values and obvious screenplay to deliver a modestly entertaining B picture.
Makes the original "Iron Eagle" look like "Ben-Hur"
September 17, 2002 | Rating: 2/5
Audience Reviews for Aces: Iron Eagle III
Louis Gossett Jr is back for a third mission in this made for TV looking movie franchise. This time he's up against some drug smuggling Peruvians, some crooked US Air Force officers and all lead by an ex-Nazi officer (dunno how a Nazi officer can look so young, pretty sure this is set in the present day of the time). So yes the plot is a complete 'A-Team' load of tosh and quite frankly it looks like an episode of the 'A-Team'. The whole thing is so quaint and charming with no swearing and 'Action Man/G.I.Joe' level violence that you do find yourself enjoying the camaraderie. The major plus point here is easily the fact that Gossett's character is now flying an old WWII 'Lockheed P-38 Lightning' which looks just the ticket old boy :). Alongside him are a small group of retired aces/friends from Germany, Japan and the UK, each of them flying their own classic wartime fighters. The legendary 'Spitfire', 'German Messerschmitt Bf 109' and Japanese 'Mitsubishi A6M Zero', shame the Jap and GER fighters aren't genuine though. The real treat of the film is seeing all four of these vintage planes fly together and maneuver though the skies against a group of basic modern jets (unsure what they were). Of course its all complete fantasy and hogwash as the classic planes have been upgraded with laser targeting missiles and manage to win but its easily much more fun to watch than high octane fighter jets zooming around. To add another cheerful cult spice to the broth is the cast. Sure the four goodies are completely racial stereotypes like something out of a 'Pink Panther' movie but in a happy non offensive way I think. The Japanese pilot is none other than martial arts legend Sonny Chiba! a bit difficult to understand what he says at times but what a result for the production. The noble-like aristocratic Christopher Cazenove is pitch perfect for the 'chocks away' good sporting British pilot complete with a pencil tash and Horst Buchholz as the steely German ace. Up against the good guys is the regularly cast foreign accent expert for baddies, Paul Freeman of 'Indiana Jones' fame ('Belloq'). Boxer Ray Mancini as a henchman and another regular bad guy Juan Fernández de Alarcon as the second in command henchman with his devious untrustworthy appearance. Overall quite a unique and interesting cast that really does help the film. Its totally B-movie fodder and as I said, looks as if its been made for TV only. That said this film does actually look a bit better than the second film certainly, effects and pyrotechnics wise, there are some pretty impressive looking explosions dotted around. Unfortunately you also still have some dubious looking model work going on but I guess that adds to the charm. Absolute nonsense from start to finish agreed but the combination of vintage war planes, early 'James Bond' type action and the quirky enjoyable cast make this shine through the clouds.
Phil Hubbs
Super Reviewer
Iron Eagle III continues the tradition of awfulness explored in the first sequel, and the result is an even more ridiculous mess of a movie that has yet another stupid storyline and awful acting. Iron Eagle never needed a sequel, but at the third film, it's clear that the filmmakers tried to push the formula's limits and make the film a painful affair that just lacks in good, ridiculous entertainment. Yes. It's off the wall in its concept, but the execution is dull, therefore the film is just an awful mess of a movie that doesn't have anything amusing about it. The cast are bland in their performances and the action and everything else is laughably bad and this third entry fails to thrill or entertain the viewer. The first film was fun, but ridiculous, and it's a surprise they made a series out of these films considering how stupid the premise of each of them is. Don't go into this one expecting a fun film, you're going to be asking yourself why did you spend time watching this trash? The film is worst than Iron Eagle II, and it's one of those movies that just isn't worth seeing. Films like this exist just for the sake of having a series of crappy B movies that are a blatant rip-off of Top Gun. Save yourself the sheer disappointment and agony of seeing the film, as you won't find anything memorable here. This is just a film that has no originality whatsoever and it suffers from a lack of effective screenwriting, which is truly lazy and uninspired.
Why, it was so tacky. Barely watchable addition to the Iron Eagle franchise. The first one was good enough but why make 2 more.
Steven Vincent Gee
Super Reviewer
Aces: Iron Eagle III Quotes
There are no approved quotes yet for this movie.