Accidents Happen
(2010)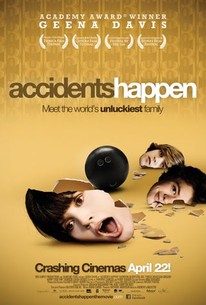 Movie Info
A dysfunctional New England family relies on the son prone to witnessing horrible accidents to get them though the hard times in this wry period comedy drama set in the 1980s. Billy Conway never set out to see the gruesome side of life, he just always happened to be around when it presented itself. One day, a terrible accident befalls the Conways, leaving one child dead and another severely brain-damaged. In the aftermath, Billy's dad leaves home. Caught between his troubled brother and his embittered mother, young Billy begins to stray from his good-son roots by hanging out with the neighborhood troublemaker. Who would have suspected that Billy's bad behavior could be the key to helping his family move on from the past and start life anew? ~ Jason Buchanan, Rovi
Critic Reviews for Accidents Happen
Audience Reviews for Accidents Happen
It is so good to finally see Geena Davis back on the big screen! Davis has always been one of my favorite actresses, showing a quick wit and a calm demeanor that has led to some tremendous films. In the new direct-to-video dramedy, Accidents Happen, she proves that she may have been on vacation for a while, but she hasn't lost a thing. In this film, Davis plays the mother of sixteen year old Billy Conway, (Harrison Gilbertson), who always seems to be in the wrong place at the wrong time. The film starts with a childhood accident that destroys his family and really defines just who Billy is. After a chilling, but hilarious opening, the film jumps to a sixteen year old Billy and what's left of his family. His mother is crazy, his brother's a drunk, and his father just isn't around anymore, so it's up to Billy to deal with the trials and tribulations of a boy who is growing into a man. Davis is listed as the star and she has some amazingly funny lines, but the story is really centered around newcomer Harrison Gilbertson, who gives one the best performances by a teen actor that I've seen all year. Gilbertson very clearly shows us how Billy is seeming unaffected by what happens to him, he's strong, and seemingly ready to deal with anything, but on the inside, Billy is much different than he appears. The character was a deep one with many levels and Gilbertson takes us through them all with ease. I loved this film, because while it's dark and depressing at times, they also joke about these things that you're not supposed to joke about. Just when things seemingly become to much, that humor creeps back in and makes you love how wickedly fun this film is. If you want to see something different, that will have you going back and fourth between laughter and tears, then this is the film for you. I went into this film expecting nothing, just looking forward to seeing Geena Davis again and what I got instead was one of the best movies I've seen all year.
Todd Smith
Super Reviewer
½
Darkly moving, and very entertaining. I wasn't sure what to expect based on the synopsis, trusting that Geena Davis would deliver. She did, and did it well. Dysfunctional family. Dysfunctional neighbors. A very clever script, and strong acting. Very, very pleasantly surprised in how well done this little film was. Kudos!
Cynthia S.
Super Reviewer
Accidents Happen???? More like shit happens!! I do not know how this movie went under my radar. Life is full of accidents and this family and neighbors cope inspired me. I felt there are GREAT performances from Harrison Gilbertson and Geena Davis. A very touching, sad story of how a family's life is change starting with an accident! Highly recommend!!
Thomas Johnston
Super Reviewer
Accidents Happen Quotes
There are no approved quotes yet for this movie.